How do you make an umbrella?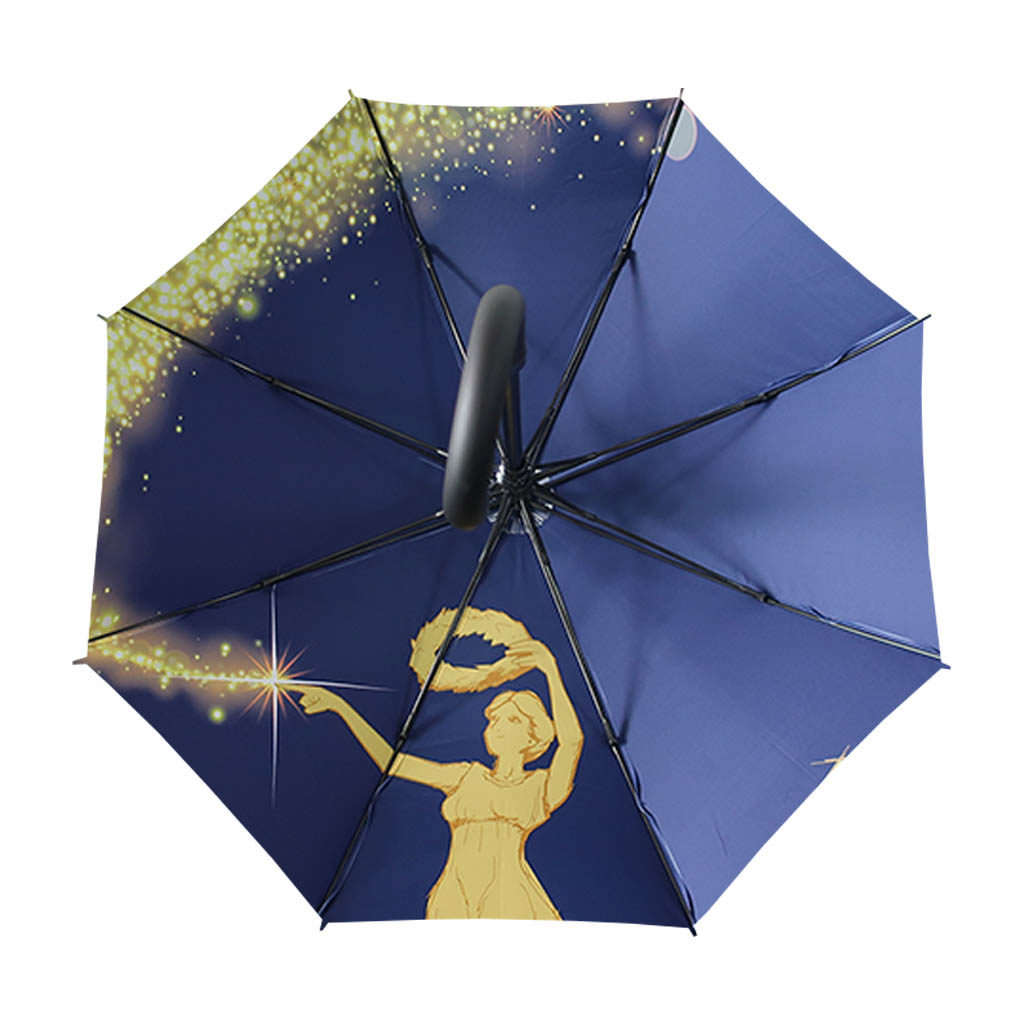 Experienced umbrella manufacturer offering up answers to umbrella questions for you. We have been making umbrellas for brand owners, creative agencies and property developers for ten years. We've been asked all the questions and they may help you when discovering more about how to make an umbrella, what the parts of the umbrella are called and how to make an umbrella. As technology progresses, we keep moving and we're pleased to offer recycled panels on an umbrella that still offer the same sturdy, reliable, waterproof umbrella, and windproof umbrella that we offer with a two-year guarantee for quality. We're sure our umbrellas won't let you down.
Here are some useful questions to consider when understanding how to make a customised umbrella.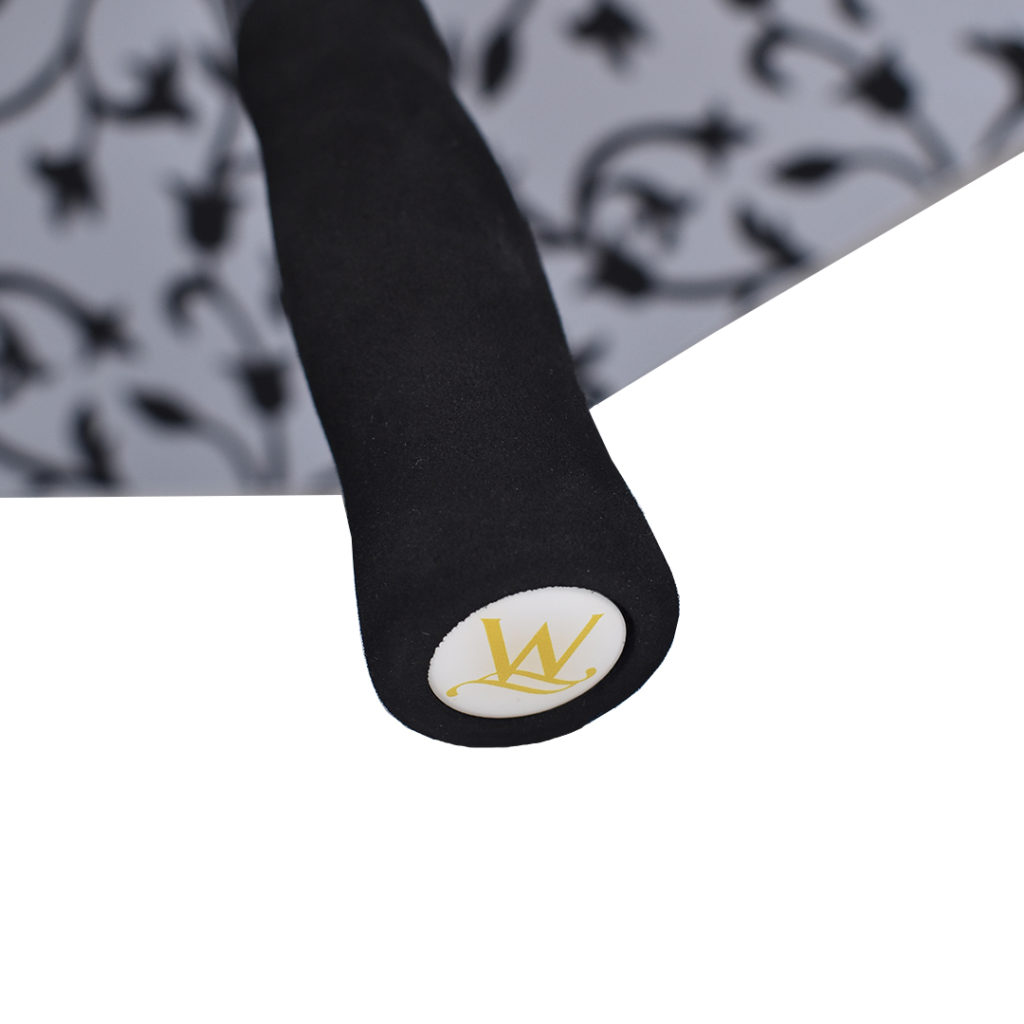 What do you call the pieces of an umbrella?
The pieces of an umbrella all have their own name. There is the handle of the umbrella, the shaft or pole which is the straight section of the umbrella and what attaches the handle and ribs of the umbrella together. The ribs are the structure that open and close that have the panels of the umbrella sewn onto.
We only use the best components for our umbrellas, such as fibre glass ribs, which will flex and bend in windy and demanding conditions.
The panels of the umbrella can be assorted colours, printed inside and outside as well as be decorated with rib tape along the straight edges. The umbrella runner is the section that moves up and down the pole or umbrella shaft to open and close the umbrella.
For an automatic umbrella this action is complimented by a strong spring, that is released by a push of a button. The stretcher which is the section that opens out the ribs.
The tie wrap on an umbrella is what closes the umbrella shut when not in use.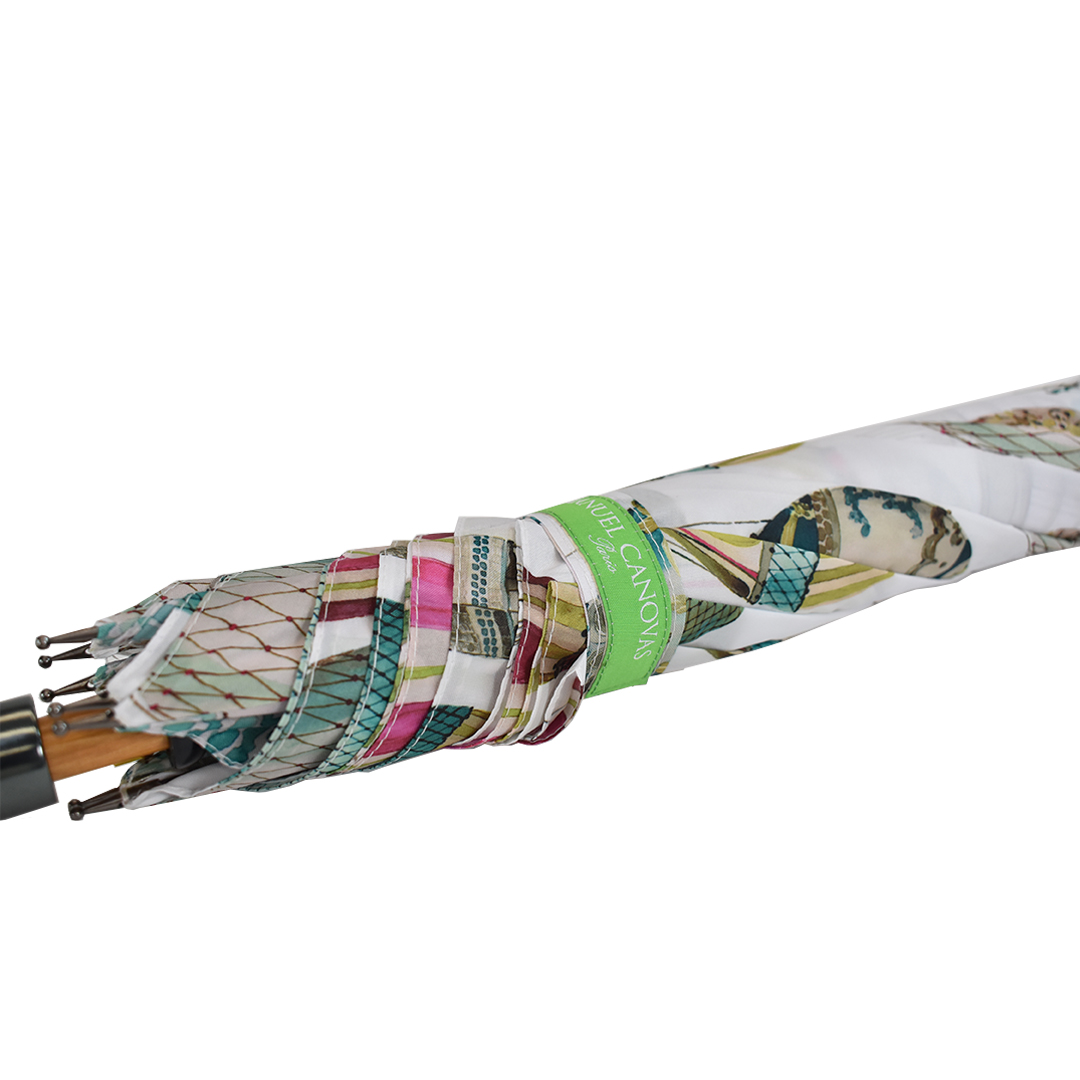 Where can I put my logo on an umbrella?
Personalisation options on the umbrella can include
Printed external panels or external canopy of the umbrella.
Uniquely. we can offer printing on the internal panels of the umbrella, this can be anything from text, logo to full photographic image.
We can embroider umbrellas, but this does have disadvantages and can make the umbrellas leak, at the point of embroidery. This is not so much a problem with a double canopy, as the second canopy can ensure the embroidery element doesn't "leak"
The handle ring can be engraved with a logo or text.
By default we don't supply sleeves for our umbrellas, but they can be supplied with simple sleeves to more detailed zipped cases and carry sleeves. These can be incorporated with a range of branding, print and detailing.
Company logo on an umbrella can also be placed on a label that is sewn into the umbrella seams.
The tie wrap which is what wraps around the umbrella to keep it closed can be printed or embroidered with a logo.
Rib tape can be printed but is usually used as a contrast colour.
On wood handled umbrellas we can engrave the handle itself.
The popper that closes the tie wrap can also be embossed with a simple logo or icon.
Golf umbrellas and folding umbrellas have a space on the end of the handle that include a branded decal with your company logo.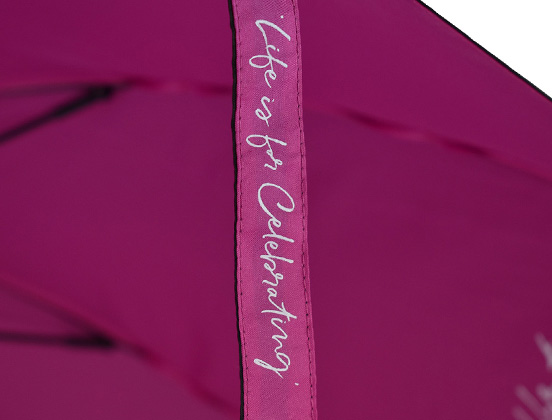 What are the metal pieces on an umbrella called?
Metal pieces on the umbrella are the finishing touches such as the metal handle ring or push button to open and close the umbrella. The pole on some umbrellas is also metal.
The tip of some of our luxury umbrellas have a metal tip cap.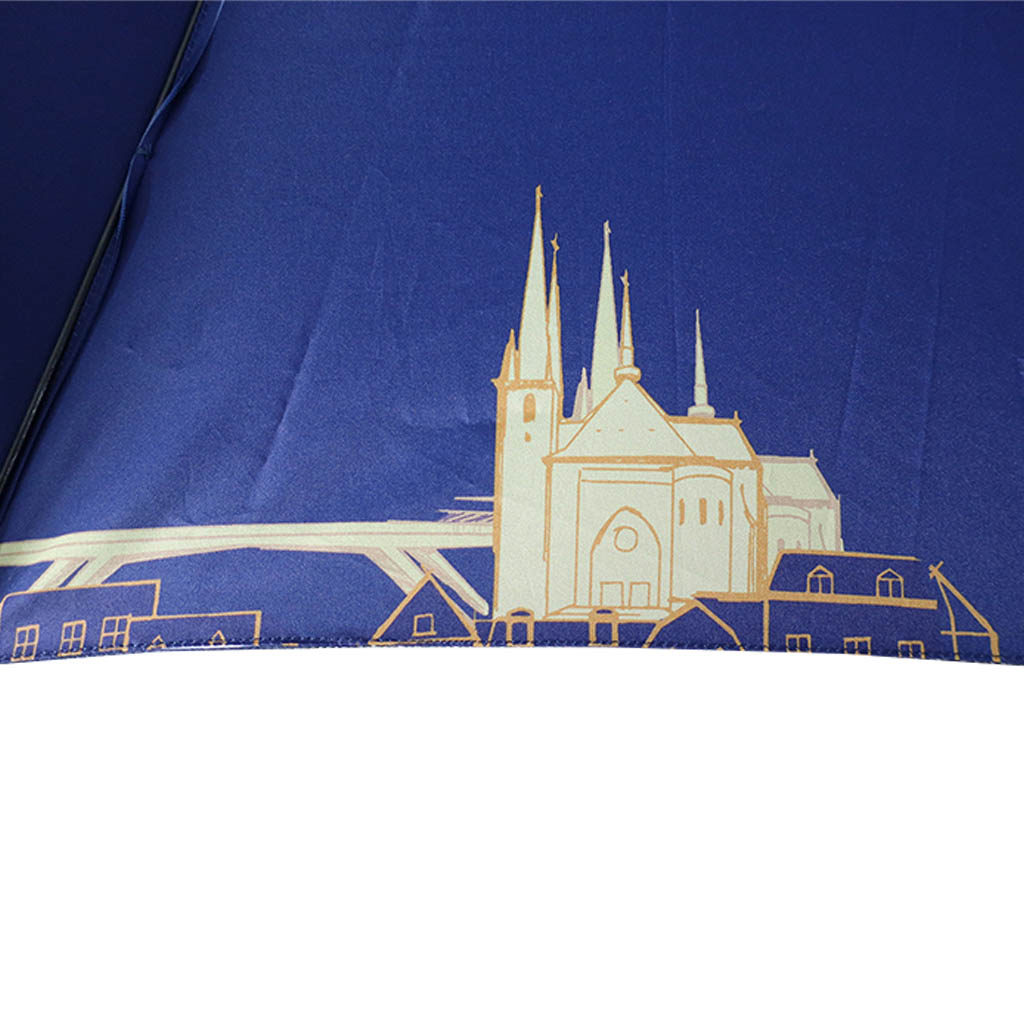 Many of our walking style umbrellas have metal rib ends, either in gun metal, silver or gold colour.
What is the long stick in the centre of the umbrella called?
The stick in the centre of the umbrella is called the pole or shaft. It's what the runner goes up and down on to open and close the umbrella.
This is made of several materials depending on the model.
Metal – coated aluminium. Usually supplied black but can be Pantone matched.
Wood – we use a standard mid oak coloured wood, though can offer a range of custom varnished wood colours to choose from.
Fibreglass – fibreglass is used for the larger sport umbrellas as is both lightweight, allows an element of flex, but is extremely strong. This is usually supplied in black, but we do offer in range of 10 colours form stock, or Pantone matched for larger order quantities.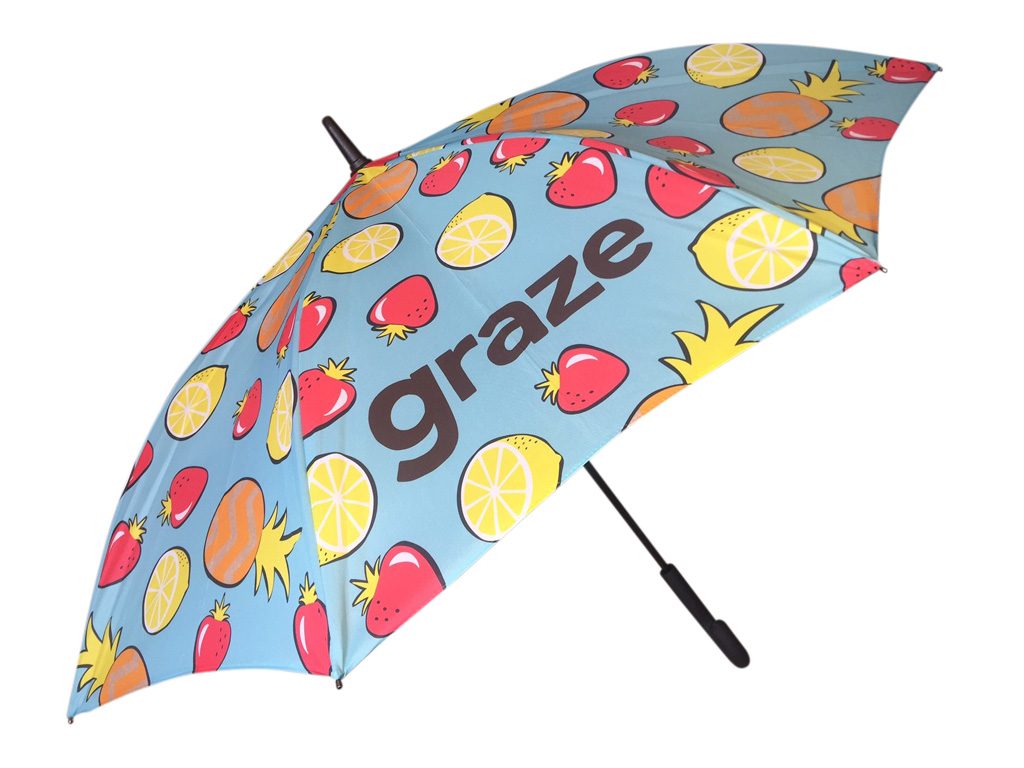 How to make umbrellas?
Umbrellas are part made by machine and part by people.
The sewing of umbrellas is an extremely skilled activity. The matching of the seams of the canopy is done by a person so it is correct and makes sense of the artwork.
When we print as a full panel both internal and external panels need to match and takes great experience and spatial ability to ensure everything lines up perfectly.
How are umbrellas made?
Umbrellas are made by cutting the panels of the pongee umbrella material into shape, leaving a margin (or hem) for them to be sewn onto the ribs. We will choose the method of printing depending on the nature of the artwork.
The key methods of umbrella printing we use is as follow.
Screen printing
Digital printing – direct to fabric
Dye sublimation digital print
Transfer print
When the umbrella panels are printed, then they are sewn onto the frame of the umbrella. The ribs, which are the sections of the frame that are wider when the umbrella is open and flat against the shaft when the umbrella is closed.
The frame of the umbrella is connected to the pole and the handles are fitted to suit the client specification of the umbrella. It's at this point, an engraved handle ring or decal at the end of the handle will be fitted.
Once the umbrellas are made and after a thorough quality control check, they are then packaged up for transit to their destination.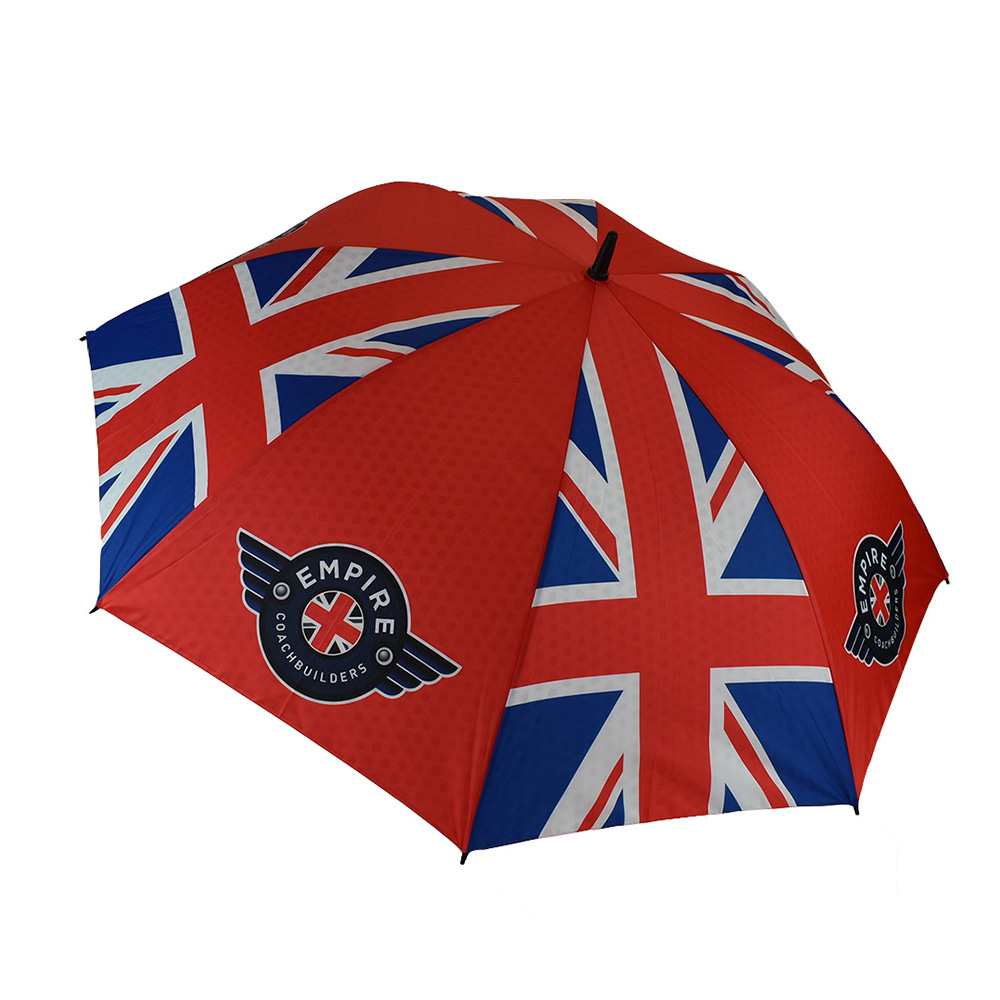 What's the top part of an umbrella called?
The top section of the umbrella is called the point which sits above the canopy of the umbrella. The umbrella canopy if the collective word for the panels of the umbrella. There are usually 8 umbrella panels, all of which can be customised with print, rib tape or labels sewn in at the seam.
How to repair an umbrella
Repairing a well-loved umbrella is possible. They can be sprayed with scotch guard to protect them if they have been damaged by a spillage that has affected how waterproof they are. If a rib becomes damaged, it's possible to repair them with duct tape to ensure they continue to open and close. Our ribs are made from fibreglass and are unlikely to break unless they experience a great force or trauma such as trapping them in a car boot or using them to hit something with severe pressure.
If the panel of an umbrella becomes ripped, it can be taped together with hem tape that can be ironed on to seal it. If the tear is severe, then it is possible to hand sew the tear, then apply the hem tape that should be ironed on and then sprayed with a water proofing spray to seal it.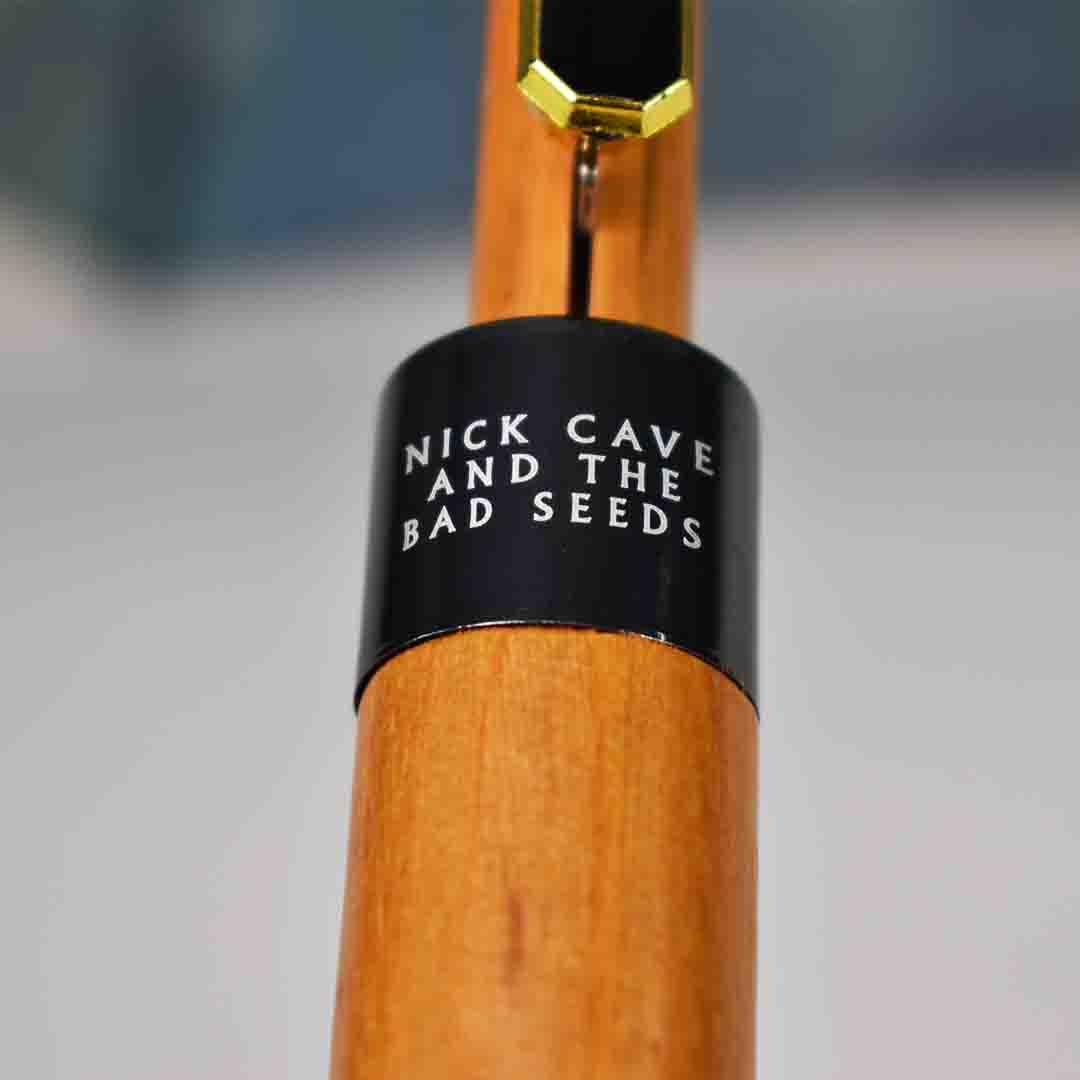 What materials do you need to make an umbrella?
Our umbrellas are made from a high-grade pongee which is a type of polyester. We usually use 190T Pongee fabric, but can offer 210T weight as well.
We can also use recycled polyester. This is called RPET and is made from reconstituted and recycled water bottles.
The shaft and ribs are made from fibreglass, metal or wood.
What is the best umbrella material?
The best umbrella material is high-grade polyester called pongee.
We offer this in a standard weight of 190T, but can offer a heavier 210T weight as well.
We can also manufacture recycled umbrellas using recycled polyester made from RPET fabric. This is called RPET, and is made from recycled water bottles.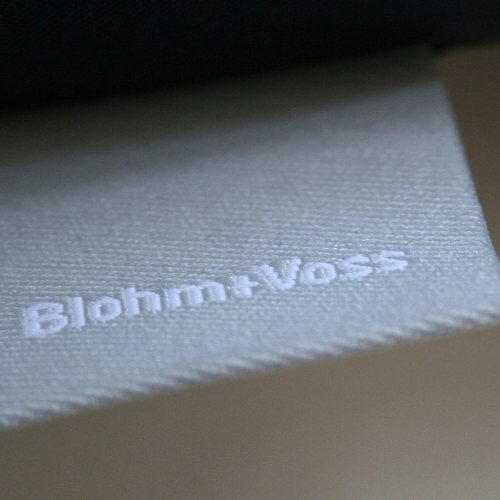 How do you design an umbrella?
Using our helpful empty template to position artwork, you can design your umbrella and plot where your artwork should be. You can also photo print on an umbrella.
We have a dedicated design team in house, and we can help you with developing your umbrella design. We just need to be supplied with your corporate brand guidelines, or any graphics, logos or colours you would like to use.
We can often get inspiration from your website and replicate themes and colours from this to make a striking umbrella design.
How do you make a fabric umbrella?
The simple answer is the fabric panels of the umbrella canopy are cut out from a long roll and then printed before they are sewn onto the ribs of the umbrella.
Umbrellas are made by cutting the panels of the pongee umbrella material into shape, leaving a margin (or hem) for them to be sewn onto the ribs. We will choose the method of printing depending on the nature of the artwork.
The key methods of umbrella printing we use is as follow.
Screen printing
Digital printing – direct to fabric
Dye sublimation digital print
Transfer print
When the umbrella panels are printed, then they are sewn onto the frame of the umbrella. The ribs, which are the sections of the frame that are wider when the umbrella is open and flat against the shaft when the umbrella is closed.
The frame of the umbrella is connected to the pole and the handles are fitted to suit the client specification of the umbrella. It's at this point, an engraved handle ring or decal at the end of the handle will be fitted.
Once the umbrellas are made and after a thorough quality control check, they are then packaged up for transit to their destination.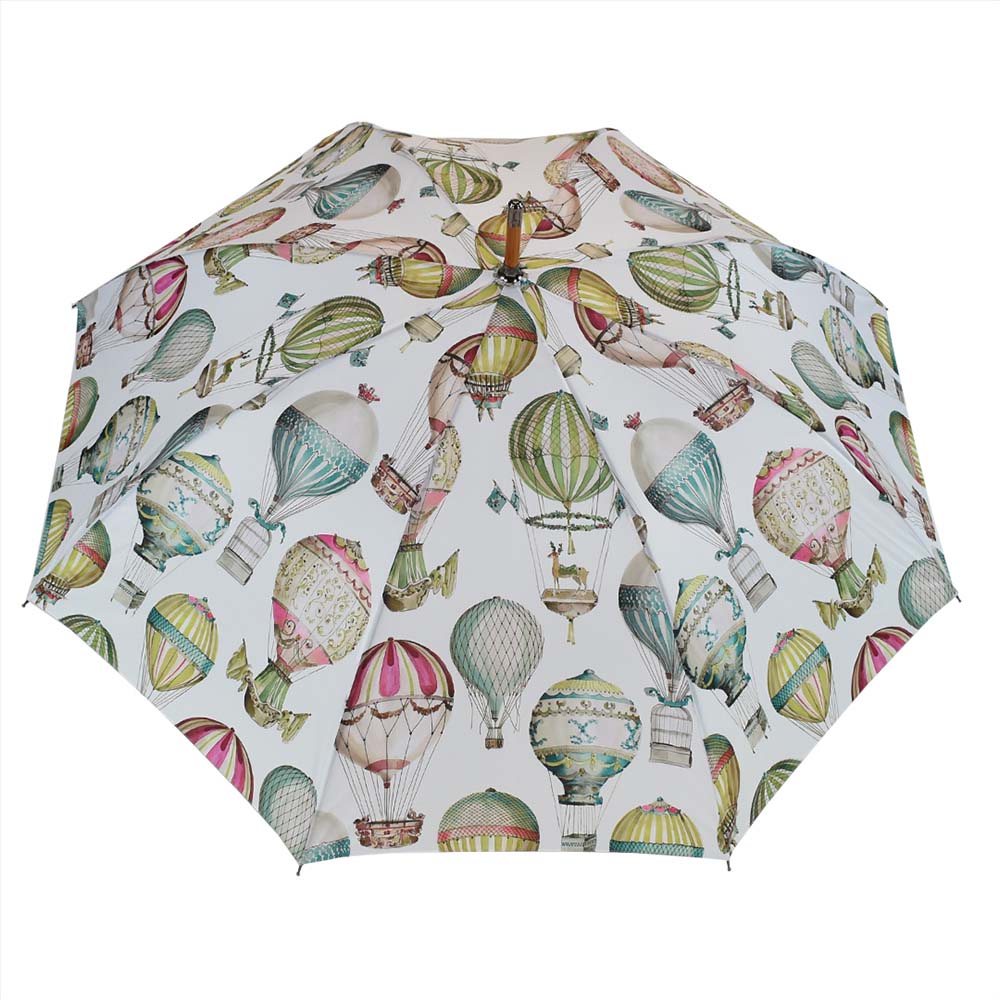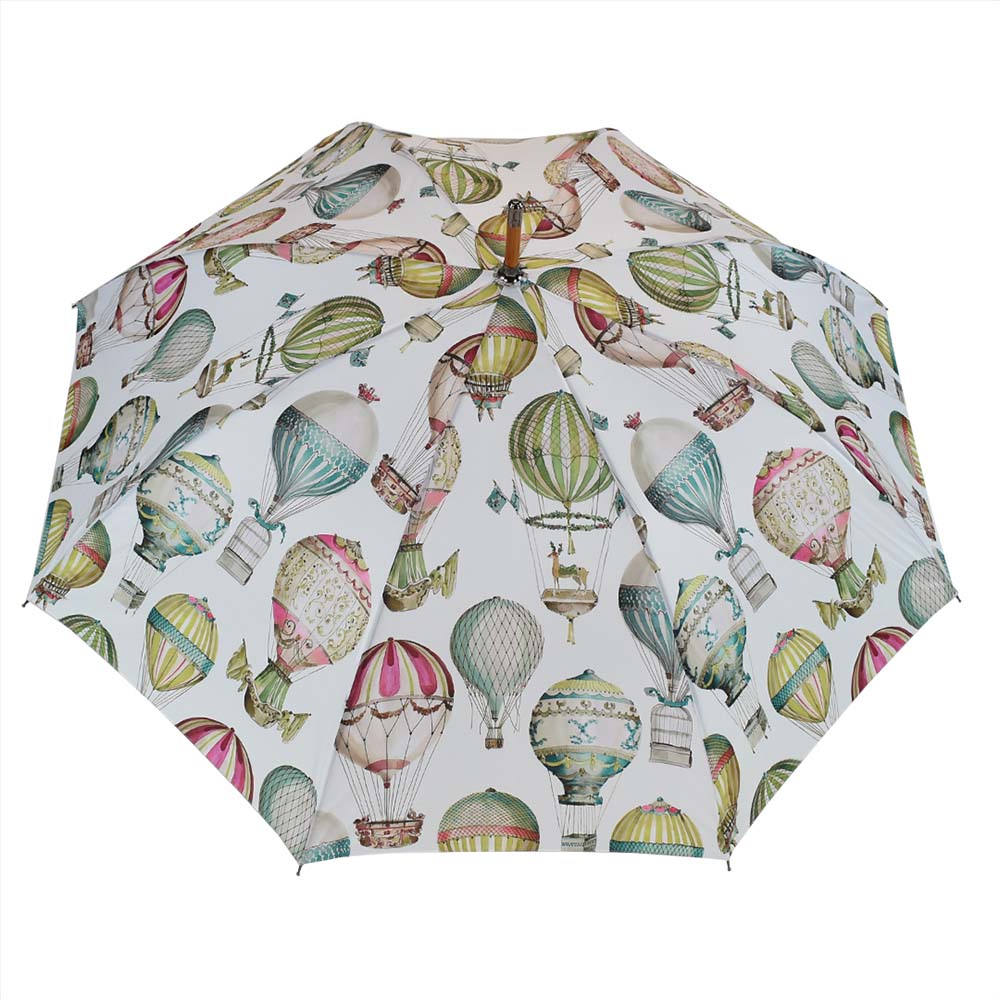 How do you customise an umbrella?
To customise an umbrella, you can personalise the handle ring of the umbrella through engraving. The inside of the umbrella panels can be printed with your artwork, photo printing on the umbrella is also possible. The outside of the umbrella canopy can also be printed with your artwork. For a subtle hint at your brand, a woven label can be sewn into the panels of the umbrella on either outside or the inside.
How do you print a logo on an umbrella?
The panels of the umbrella are cut from a roll and then they are printed. The relevant print method is chosen depending on the artwork. Intricate patterns will require a digital print and a simpler or just bold single colours will require a screen print.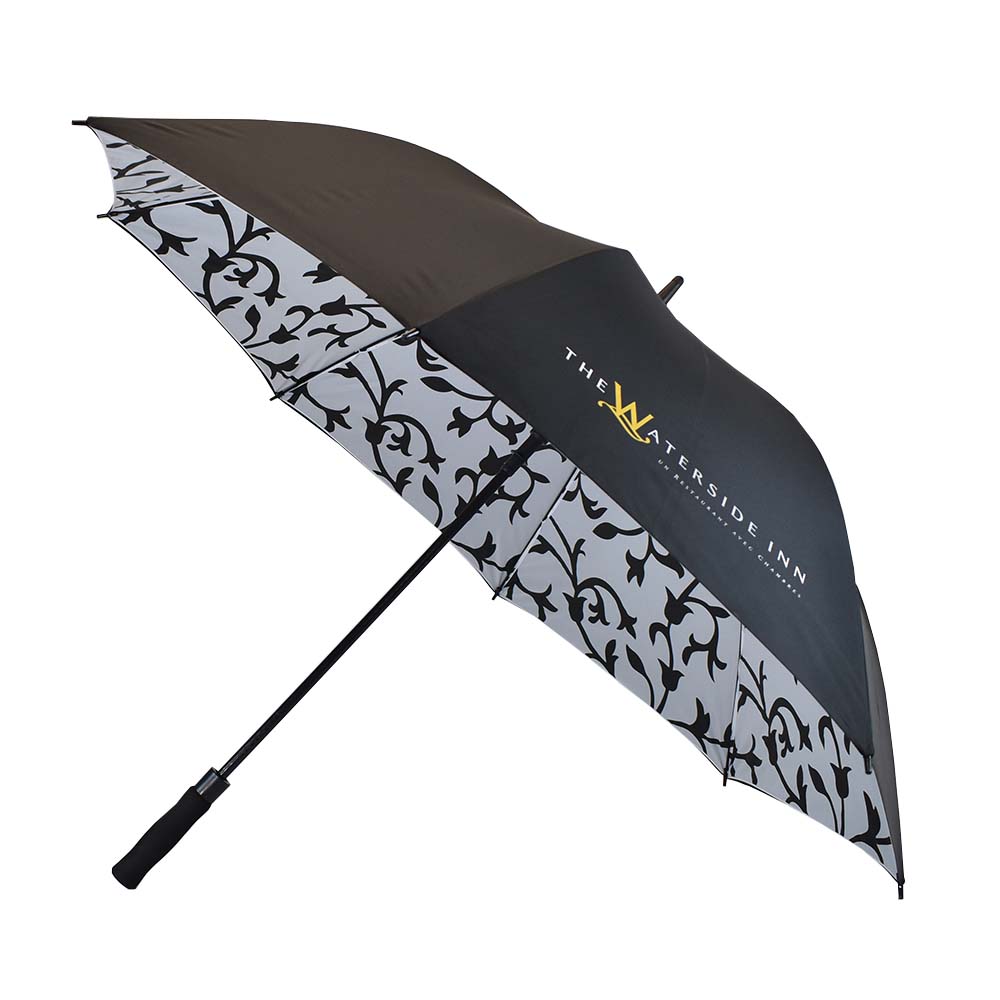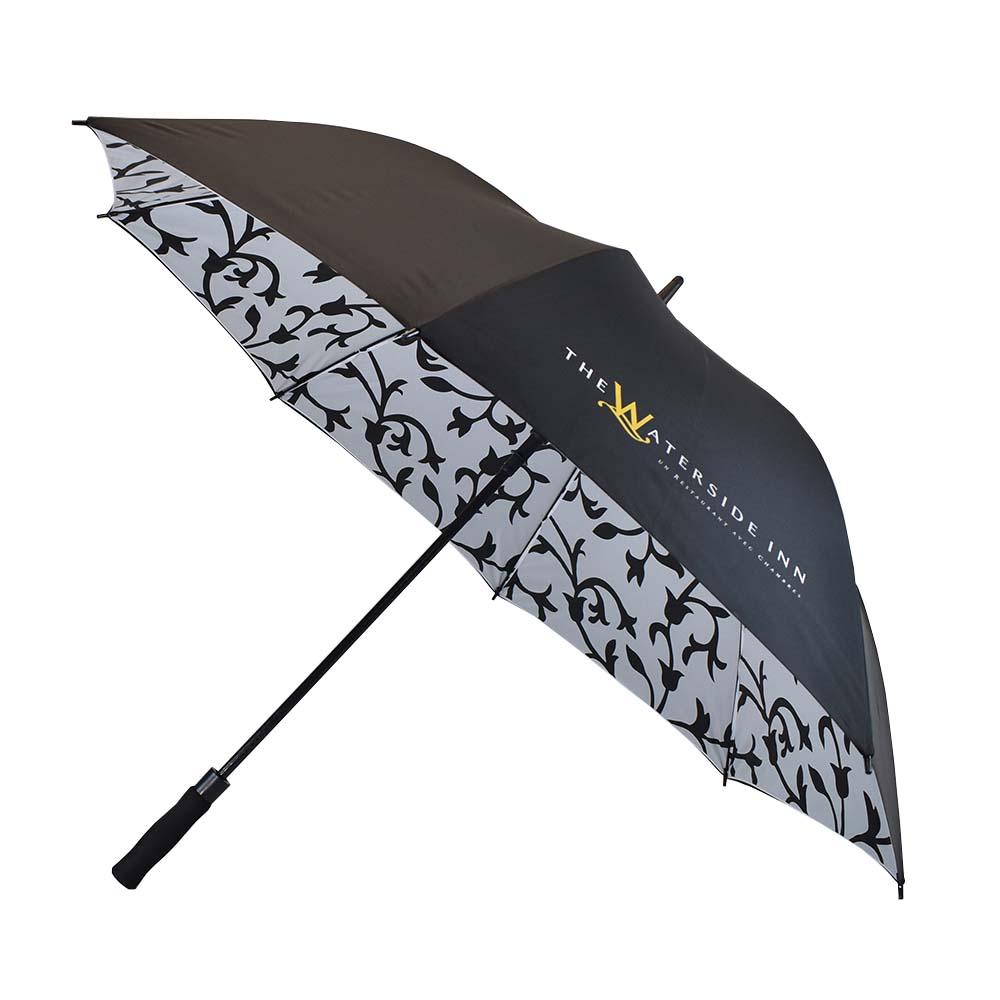 What are umbrella printing methods?
Print methods for an umbrella include digital printing on an umbrella and screen-printing umbrellas.
How many ribs should an umbrella have?
An umbrella has 8 ribs for the umbrella fabric panels to be sewn onto. When looking up into an umbrella it looks like a giant spider. This is the frame of the umbrella, and the "legs" are ribs.
What is the frame of an umbrella called?
The frame or structure of the umbrella can also be referred to as the ribs of the umbrellas. The ribs are the bendy bits that make the shape of the umbrella that sits over your head as a shelter.
What umbrella is best for wind?
Not all umbrellas are made equal! Umbrellas made by the Umbrella Workshop are windproof. They are tried and tested at speed by holding them in a moving car. They will only fold inside out at 30mph speed. This offers you peace of mind that our umbrellas are windproof and won't let you down.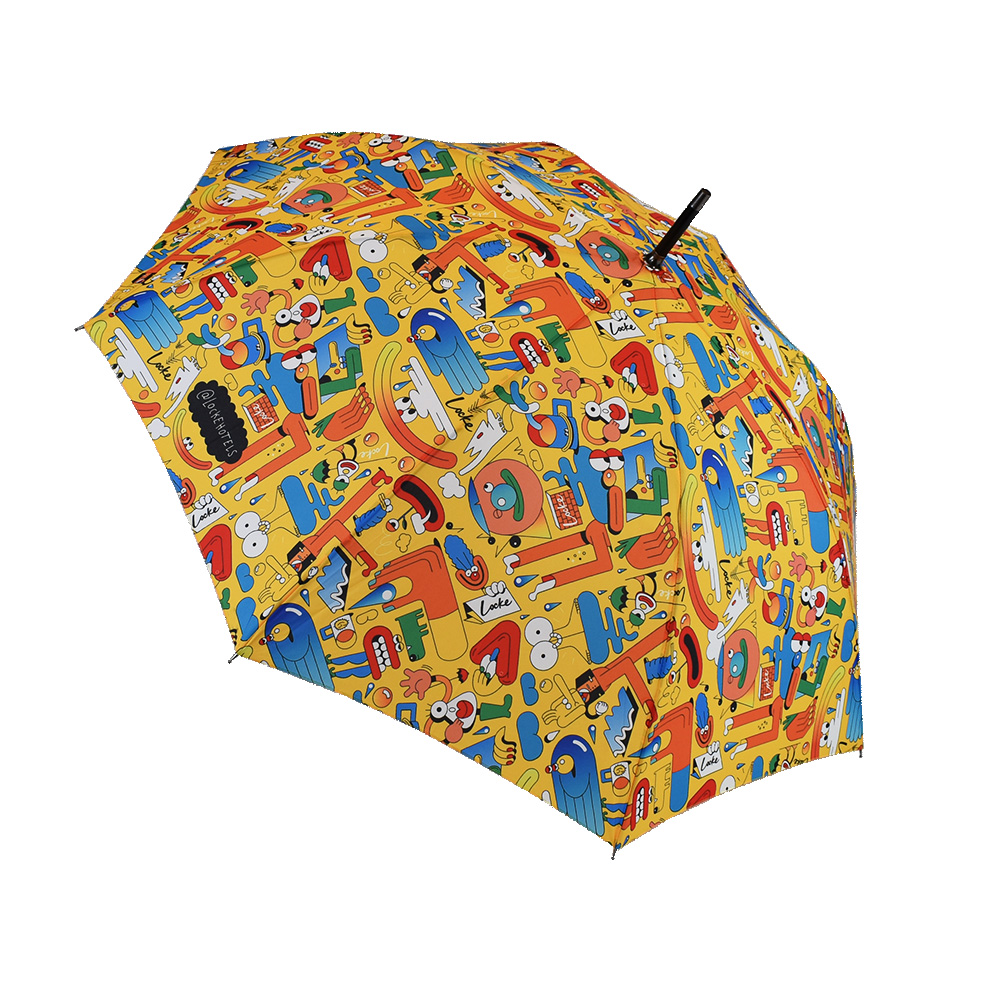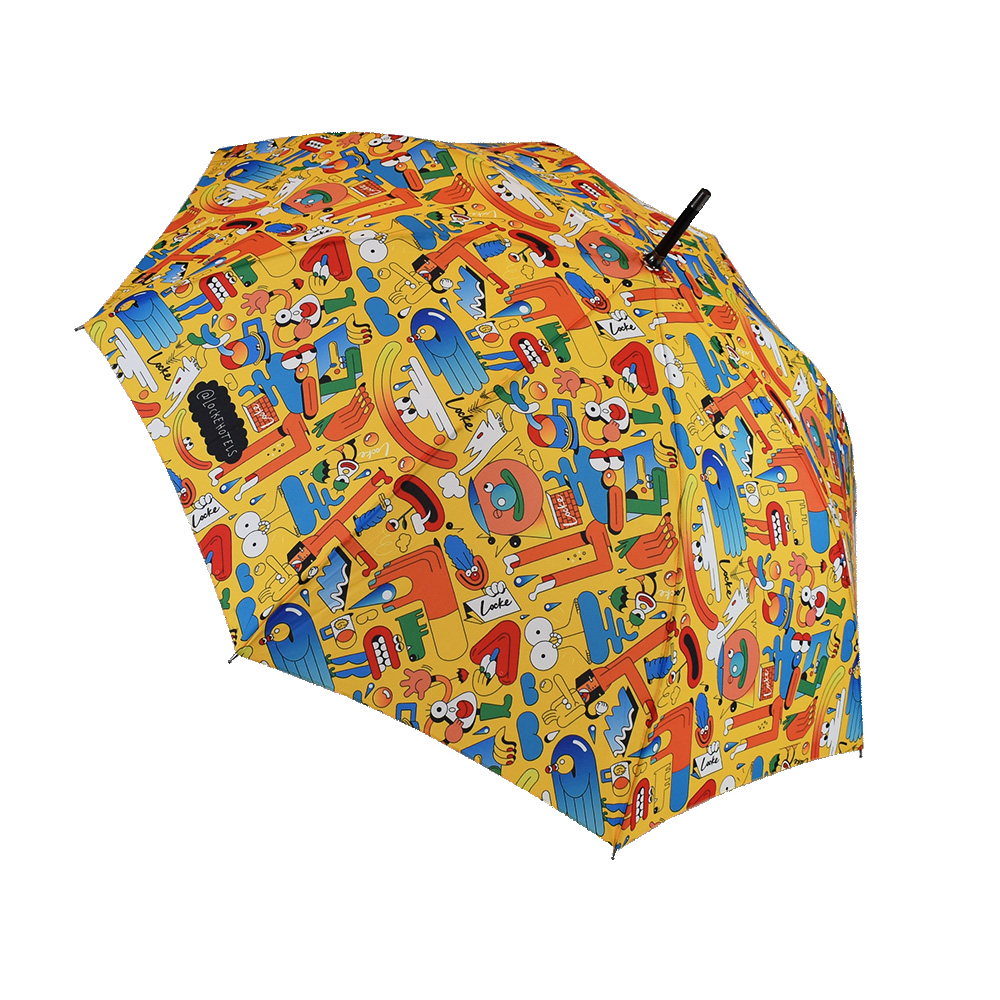 What is the umbrella cloth called?
The umbrella cloth is called pongee. Pongee is the umbrella cloth that forms the canopy of the umbrella. Pongee cloth is a high-grade polyester.
What is the fabric part of the umbrella called?
The fabric part of the umbrella is called umbrella panels. The umbrella panels are rectangular.
What's a custom umbrella?
A custom umbrella is made specifically for a brand or organisation. A custom umbrella is truly bespoke print and personalisation for the customer ordering it. No other company will have the same custom umbrella.
How long does it take to make an umbrella?
It can take up to half an hour to make one umbrella. Taking into consideration the cutting, printing, constructing the ribs and the handles, sewing and finishing touches.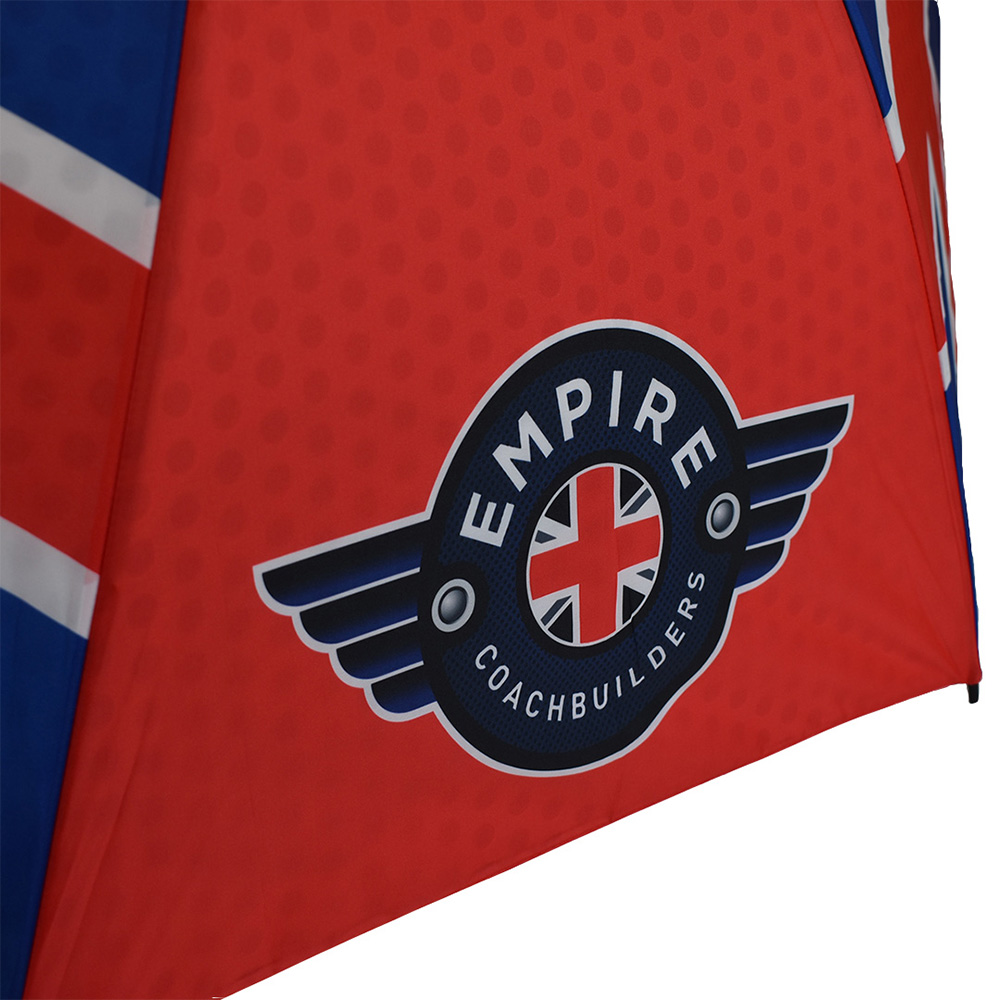 Where are umbrellas made?
Our umbrellas are made in the UK and China. We have a wonderful collaboration with two factories that we've worked with for ten years.
Can you recycle umbrellas?
Yes, umbrellas can be recycled. The panels of the umbrella can be recycled in textile waste. The fibreglass can be melted and reformed and reused.
Can you make recycled umbrellas?
The Umbrella Workshop can make recycled umbrellas. The panels of the umbrella can use recycled polyester.
Are umbrellas eco-friendly?
Umbrellas that last a lifetime are eco-friendly. An umbrella that can be given as a gift and be used for decades is a durable and long-lasting product that doesn't need updating or remaking. Choosing inferior parts will create a poor umbrella that won't be eco-friendly and durable.
Can I get a sample of an umbrella with my logo on?
Yes. The Umbrella Workshop can print logos on umbrella and the supply a pre-production sample for you to approve before the full order is manufactured.
How many umbrellas can I order?
You can order as many umbrellas as you like. Our minimum order quantity starts at 50.
Some of more complex designs and prints require 100 pieces as a minimum. This is due to wastage and our exceptionally high-quality control.
Who makes umbrellas?
The Umbrella Workshop makes umbrellas. Factories make umbrellas and use a combination of people and machines to construct them.
We've been making umbrellas for over 10 years, we have factories in both the UK and Far East.
Are umbrellas made by hand?
Yes, umbrellas are made by hand and machines.
Are umbrellas made by machine?
Umbrellas are made by machines and people who carefully match together artwork to ensure its continuous.
Can I print a photo on an umbrella?
Yes, photos can be printed on umbrellas.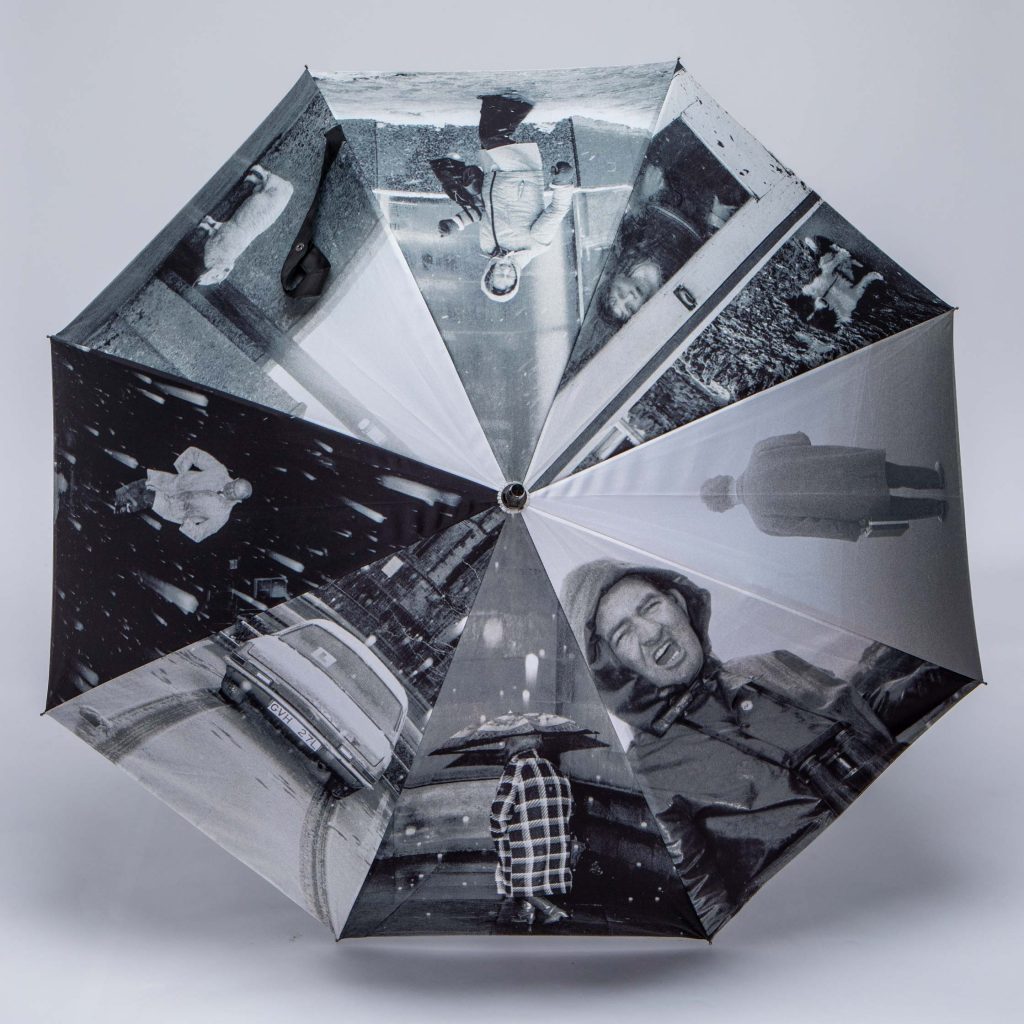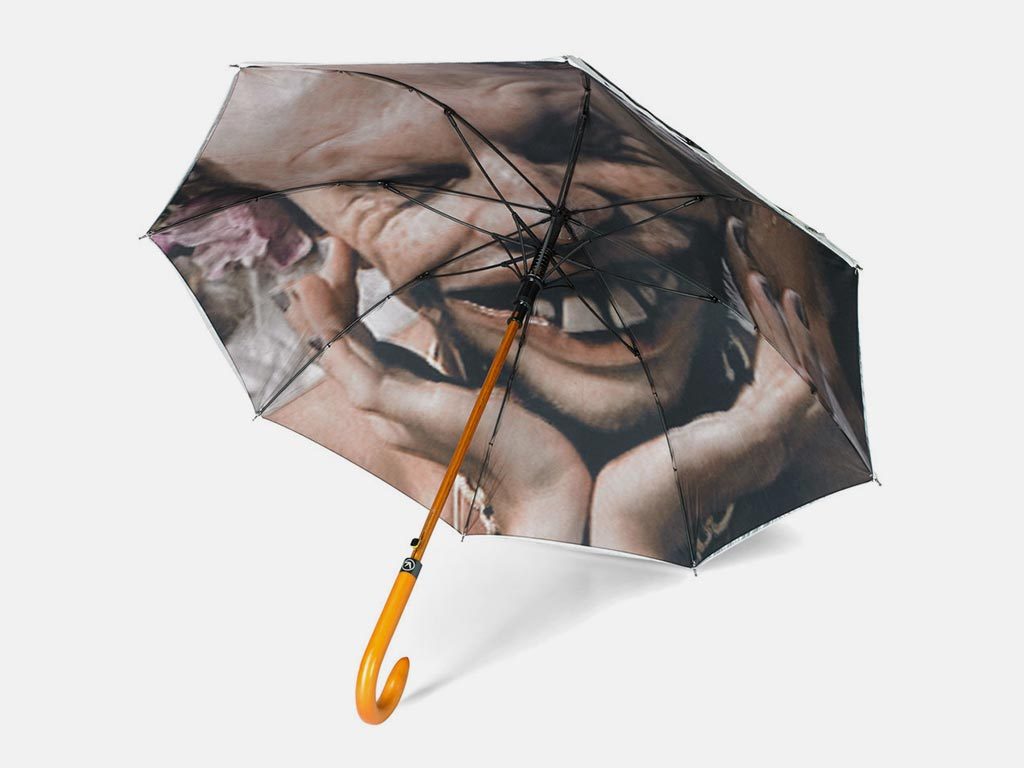 Can I print a map on an umbrella?
Yes, maps can be printed on umbrellas on the outside and inside panels of the umbrella.
If you have any questions that you think would be useful to add in here, then please get in touch so we can include them to help other people.
If you would like to manufacture a custom umbrella, then we'd love to help you with that. Get in touch and we can help you create the perfect luxury gift umbrella.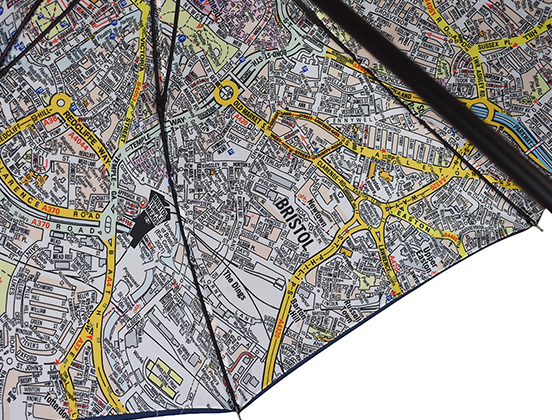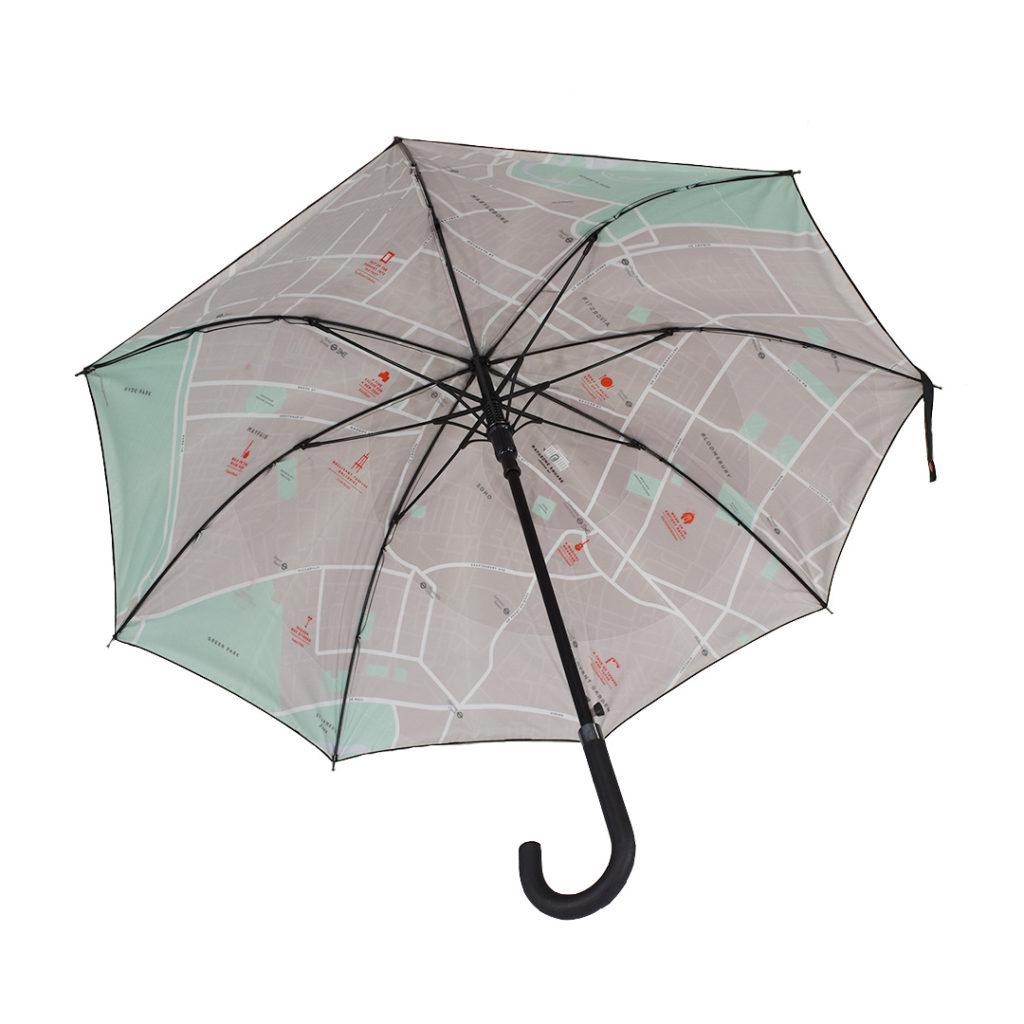 The Umbrella Workshop
The Umbrella Workshop are experts in umbrella manufacture. With ten years of experience, we've worked with some of the best-known brands and household names as well as interesting galleries and retailers. If you would like to join then and make a luxury umbrella to last a lifetime, then get in touch with us to make that happen. To accompany your bespoke umbrella, you can talk to us about luxury branded merchandise and customised high-end fabric bags and packaging by discussing with our sister companies The Bag Workshop for personalised packaging and Wurlin for luxury branded gifts.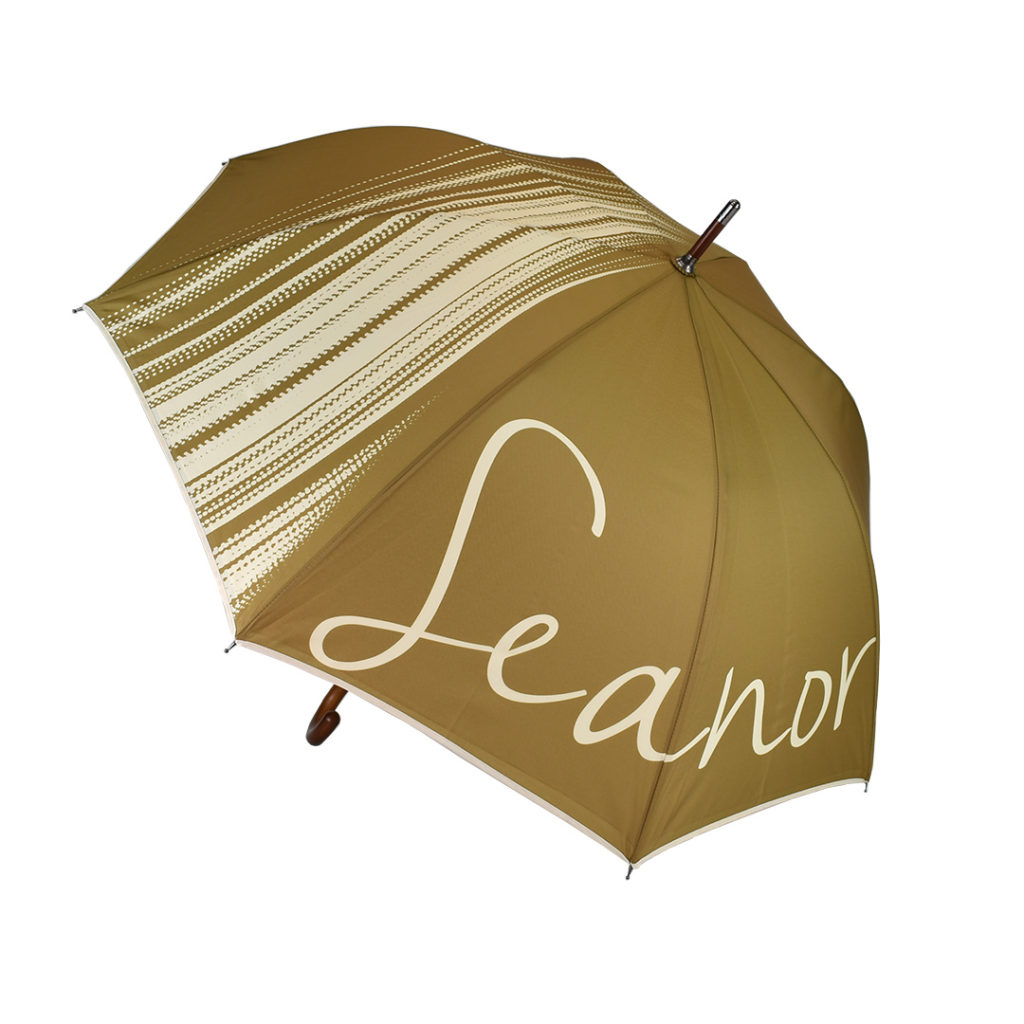 Umbrella fact: we're fascinated with umbrellas. We see a direct impact of the weather changing outside, with our UK office phone ringing consistently from September to May, with the mostly daily occurrence of rain outside of our windows. We do a little rain dance and help our clients with ordering their branded umbrellas that they give to clients, employees or use for interesting displays, events and performances.
We're sharing with you, interesting things we've learnt about umbrellas in ten years of manufacturing them. If you've got more to add, then do let us know, we're always pleased to learn more.
Five unusual umbrella facts
1. Recycled umbrellas have muscles
Recycled umbrellas have muscle. They are waterproof, storm proof and can be personalised! We're not content with the throwaway cheap umbrellas that are seen discarded on the street or end up in landfill, we've only ever manufactured premium quality umbrellas that last a lifetime. Our umbrellas have a two-year guarantee for quality. We've taken this a step further, we are now manufacturing recycled umbrellas. Recycled plastic bottles (RPET) can be made into a fully functioning, storm proof umbrella and personalised with print. There's an umbrella fact for you!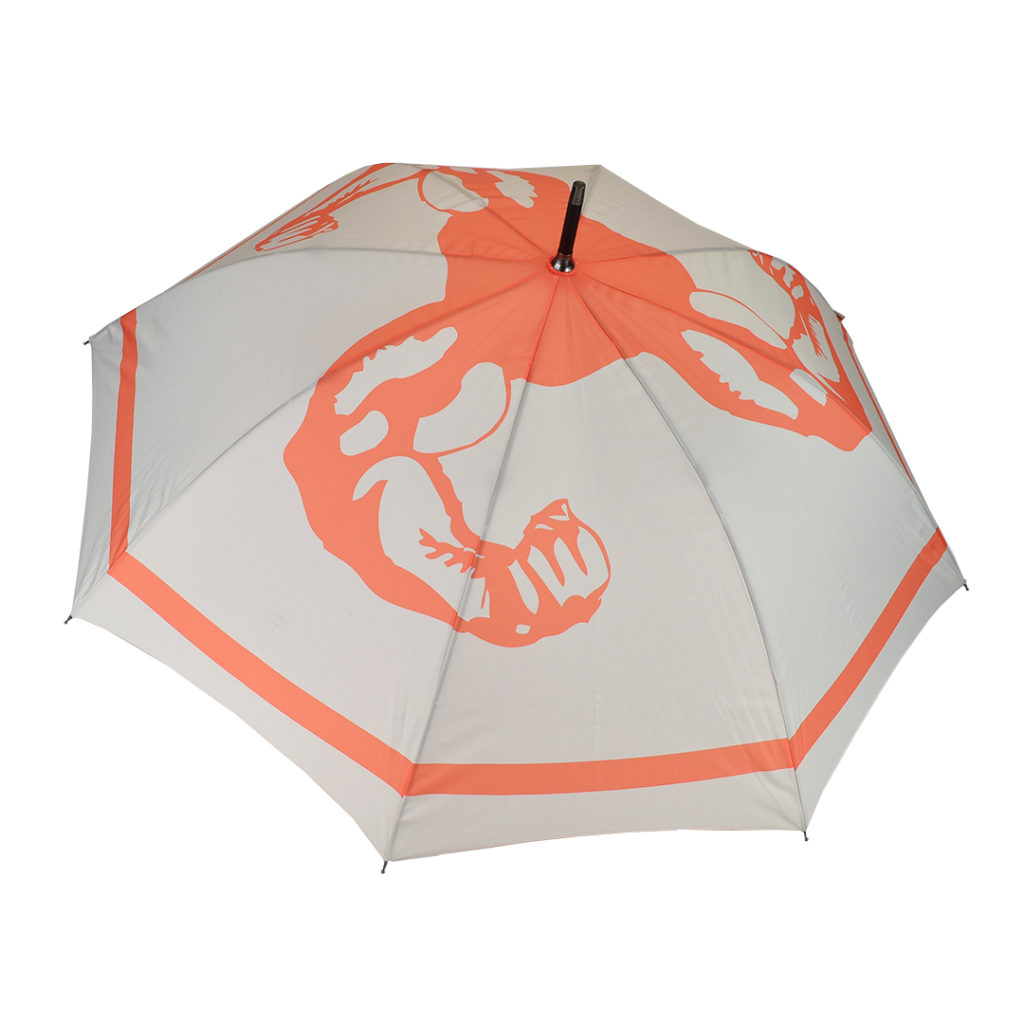 2. Women were umbrella trail blazers
It was women who championed the umbrella before men took up the habit of carrying them. Identified as early as 1708, women were using the umbrella to protect them from the outdoor elements, women were also able to accessorise their outfits with accompanying umbrellas. Kersey's dictionary references an umbrella as 'a screen commonly used by women to keep off rain.' Another umbrella fact for you – it was John Hanway, a philanthropist and traveller from London who took up using the umbrella and was vilified and laughed at for carrying it by Hackney coachmen.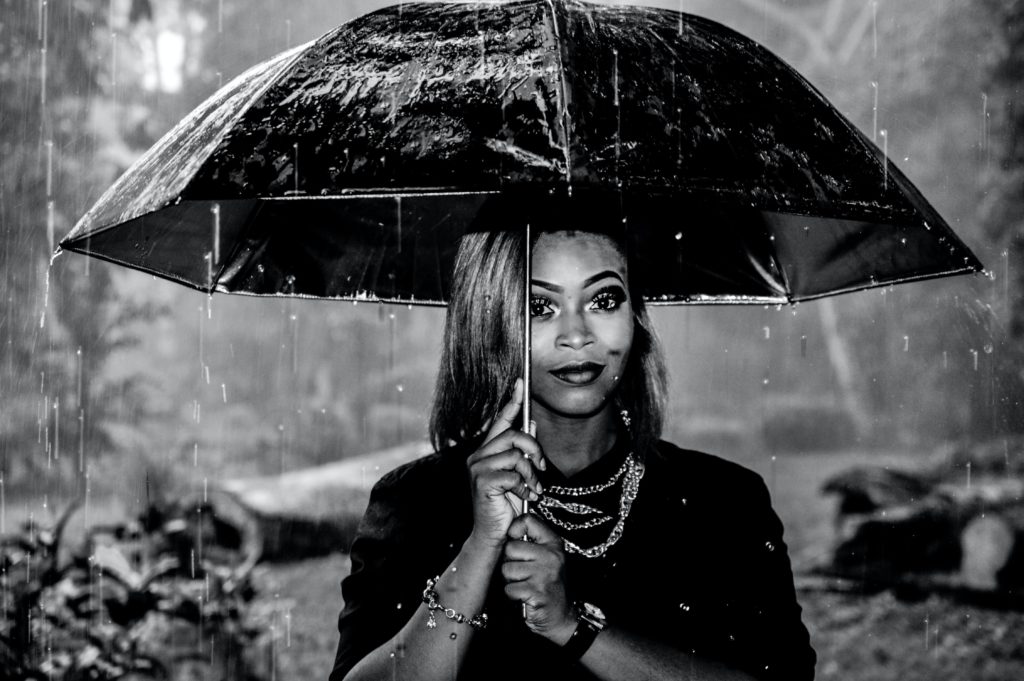 3. An umbrella makes you credible
Widespread use of the umbrella in Europe was promoted by Princess Palatine in 1712. Her use encouraged the aristocracy to accessorise with an umbrella. A Paris magazine in 1768 is reported to have advised that without an umbrella, one is considered vulgar!
"The common usage for quite some time now is not to go out without an umbrella, and to have the inconvenience of carrying it under your arm for six months in order to use it perhaps six times. Those who do not want to be mistaken for vulgar people much prefer to take the risk of being soaked, rather than to be regarded as someone who goes on foot; an umbrella is a sure sign of someone who doesn't have his own carriage." (Source: Wikipedia)
4. Umbrellas used to be called Robinsons
"I covered it with skins", he says, "the hair outwards, so that it cast off the rain like a penthouse, and kept off the sun so effectually, that I could walk out in the hottest of the weather with greater advantage than I could before in the coolest."
The book, Robinson Crusoe by Daniel Defoe refers to the protagonist creating his own umbrella which imitates one he'd seen in Brazil. From this, the umbrella was referred to as a 'Robinson' for many years before is slowly phased out.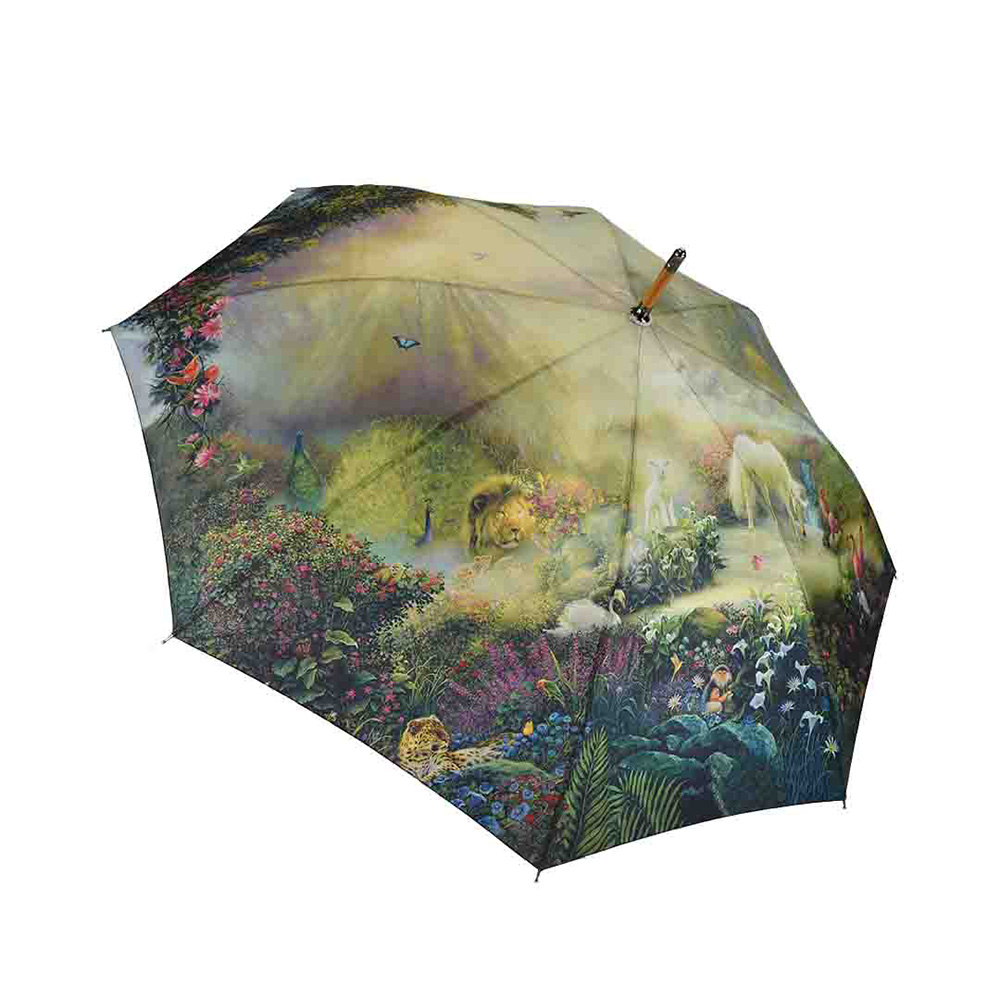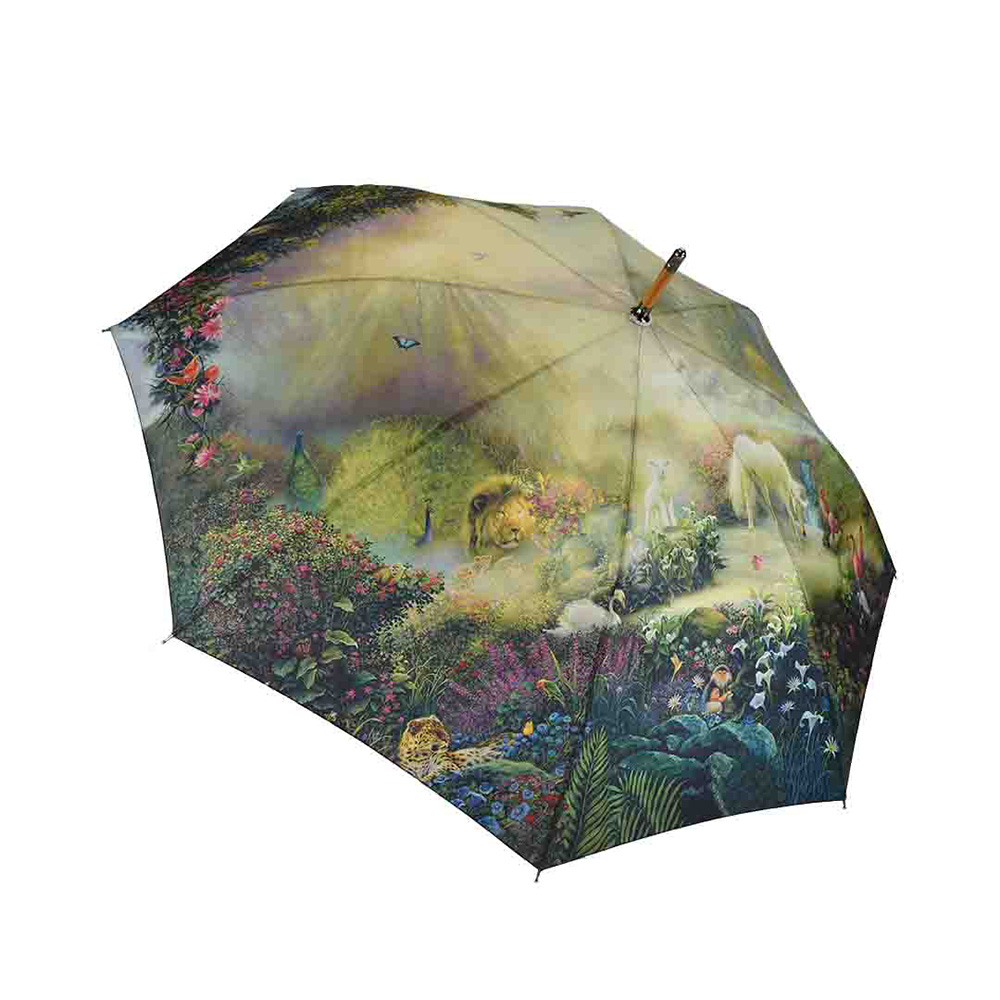 5. National Umbrella Day is February 10
National umbrella day is celebrated across the world to pay homage to our reliable best friend. This important invention keeps us dry when it rains and protects us from the sun when it shines. Join us and celebrate our humble umbrella.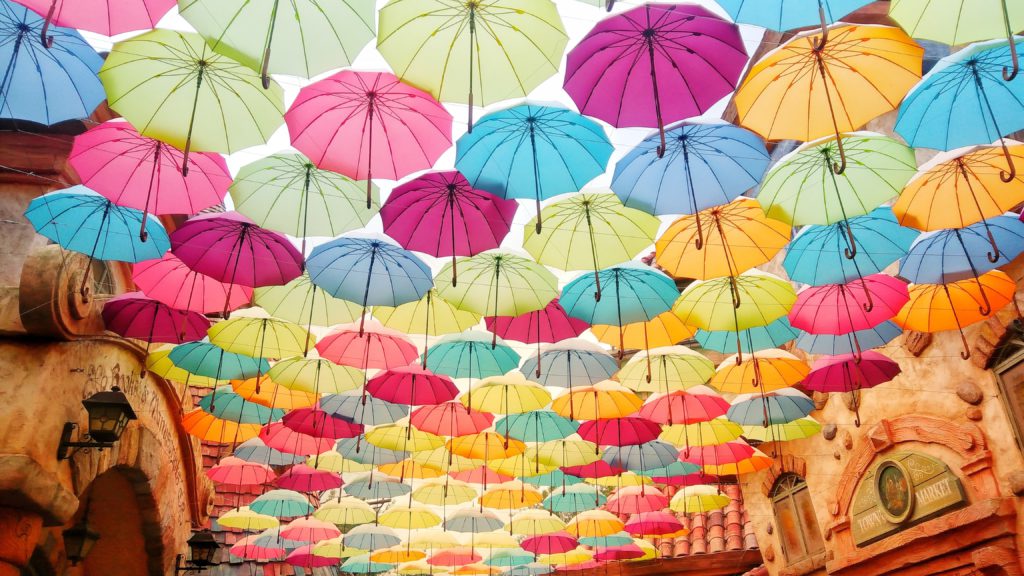 More umbrella facts: history of umbrellas
Umbrella fact that didn't make the list is that they have a long, enduring history and have been depicted in the history books for more than 4000 years in Greece, China and Egypt.
They've come a long way from the sunshades and paper umbrellas that evolved into protection from the rain. Gaining popularity in the 17th century, the umbrella took various forms and became more popular with Europeans to protect them from the rain.
Fast forward to now and the umbrella is a staple in most people's handbags or the boot of a car. In fact, they feature in the top 5 most popular items left in the London Underground with more than 10,000 getting left on the tube.
Types of umbrellas
Umbrella fact! There are three models of umbrellas to choose from. The golf umbrella , which is a large model, favoured in the sports industry due to its large branding estate across all 8 panels. The Umbrella Workshop offer this model with various differences including a vented option plus an automatic or manual opening function.
The walker umbrella has a crook handle and can be in wood or a slick black silicon and gun mental finishes. This umbrella is smaller than the golf umbrella that can be used to weave through urban spaces, but still large enough for applying visible branding.
Telescopic umbrellas also known as folding umbrellas are the smallest model and can be folded down to fit in a bag when not in use. Often accompanied by a carry case that can be printed or Pantone matched to suit the panels of the umbrella. The handle can be changed on this model to either be small to sit in a hand or a crook handle in wood for a deluxe feel to a telescopic umbrella.
The Umbrella Workshop only uses premium quality materials. This includes high quality polyester called pongee, as well as recycled RPET and different printing methods to create unique branded umbrellas that are built to last.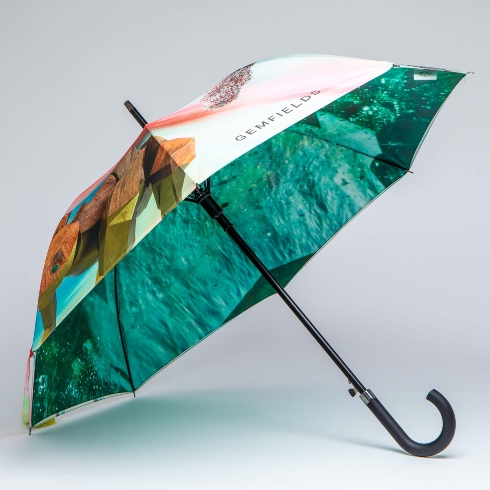 What can we do for you? The Umbrella Workshop.
Wurlin-The Umbrella Workshop are not just fascinated with umbrella facts, we are specialists in bespoke umbrellas, bags, packaging and customised merchandise. Progressive and flexible, we work with creative agencies and brand owners to diligently explore concepts and develop custom branded solutions. Experienced in sourcing products with a global supplier reach, we are trusted partners to clients for innovative manufacture, structured project coordination and international distribution.
Employee engagement ideas vary and should be carefully considered. Employees play an important role in your organisation. They are primary, important internal stakeholders who help define, shape and carry out the tactical operations of a business. They bring energy to planning and operations, they are the face of your company, they interact with your customers and can define how your business is perceived by them. They are brand ambassadors that should be invested in to get the best versions of themselves to shine at work. It impacts your bottom line, and it affects multiple aspects of running a business from productivity, motivation and efficiency.
Engaged employees are attractive. They are productive, communicative, proactive, support one another and are collaborative. Enthusiastic employees are innovative and improve your bottom line.
However, with the huge shift in work-place culture in the last year and a half, employers can't stand still and ignore what's happened and why it's important to engage and invest in employees using more meaningful channels. Employee engagement ideas vary but they should be purposeful and well thought through.
What has happened to workplace culture?
Previously, workplace interactions were dominated by face-to-face interaction including meetings, chatting in the kitchen, cigarette breaks, or lunchtime runs with your colleagues. Spontaneous exchanges of conversation both social or work-related that kept relationships alive and the sharing of information relevant and progressive.
Then an international disaster happened, and the world closed. It assaulted everything we knew about work, family, what was expected of us, our income, food supply and safety. Those lucky enough to keep their jobs had to find a new normal. The interruption of communication, growth, values and a sense of belonging were thrown up in the air and new norms are being developed. With remote working dominating the office or hybrid options being offered to employees, the values of an organisation, motivation of employees, promoting a sense of belonging and recognition are high on the agenda alongside the importance of the bottom line. Without employees, there is no bottom lin
What happens when people work from home?
Remote work has equalised opportunities for people who previously had barriers to working in an office 5 days a week for 8 hours of the day. Working from home full time or on a hybrid basis with employees combining time in the office with home working can reduce the amount of energy required to confirm being in the office, it promotes a sense of responsibility for ones workload, it allows people from all over the country and world to come together in one organisation and therefore polling staff from a wider reach has obvious benefits. It offers working families more flexibility which also opens up the staff reach as well as attracting people who have responsibilities, they have to fulfil outside of work but also have the skills, experience and knowledge to offer an organisation that cannot be bypassed.
Working in a virtual environment allows a business to build on developing diversity, inclusion and a requirement to foster sense of belonging. This can be evolved as new habits emerge and new programmes are developed to encourage a sense of belonging, productivity and wellbeing. Employee engagement ideas around belonging, productivity and wellbeing should all be considered. Gifts and programmes focusing on these themes can include encouraging people outdoors and providing them with custom branded outdoor coats or gilets. Promoting wellbeing through subsided exercise or gym membership or branded fitness towels and sweatbands can all be added to your engagement gift programme.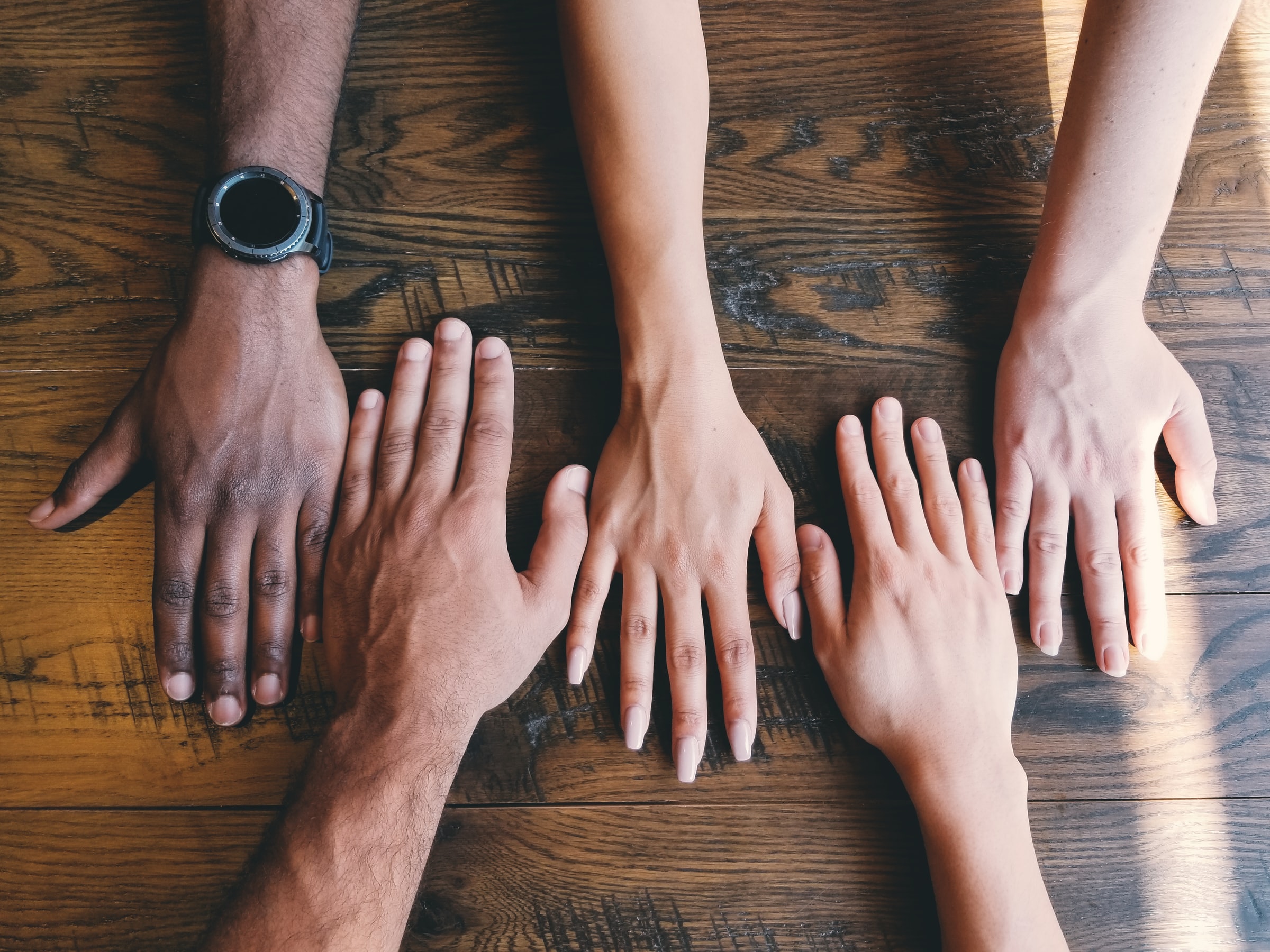 Engage your employees
Happy, motivated and rewarded employees work harder, stay in the job longer and saves you money. A sense of belonging is critical to an employee's experience. The first half of 2020 saw that a sense of belonging to an organisation and team impacted employee happiness and had increased by 12% compared to the previous year. Probably not that hard considering the previous year's unsettling change in workplace environment and economic stability. However, a sense of belonging has become the second most important driver of a great and meaningful work culture in the latter part of 2021.
Source: **LinkedIn GLINT Employee Wellbeing report May 2021
What are the pitfalls of the new workplace culture?
Loneliness, lack of motivation and risk to productivity as well as a lack of community and teamwork are huge risks to an organisation. However, anchoring these and making them work towards an organisation's goals, can improve the bottom line through productivity, increased motivation and new product or idea development.
Employee engagement versus employee experience has multiple layers. Not to be confused by the annual Christmas party get-together, the employee experience is defined by how an employee feels within the business and this is affected by other team members, managers, organisation structure, benefits and pay. The physical experience an employee experiences is affected by the environment they are in. What they can see, where they sit, what their chair is like and the food they eat during the day. Then there is the technological experience that relates to how employees carry out their jobs with the tools they are provided with such as their laptop, phone or project management tools. Have your employees got contemporary equipment? Is their internet connection reliable?
Employee engagement is the opportunity employees get to share their ideas, a space they can speak out and say what they mean and impact a business in the workplace but also outside of work. Where does an organisation take their staff to get to know one another? Where do they go to maintain their health and well-being? Are they rewarded with a Christmas party and yoga retreat? Has your team been given the tools to communicate with one another? Do they have phones that work? Do their chargers work?
In order for employees to bring their whole-selves to work they don't want just to rock up and get paid, they're looking for a great company culture that engages them and offers them a 360 experience – one that bring the best version of themselves to work and allows them to enjoy a life outside of work. That work-life balance that we've all been talking about for years has finally started to materialise following the pandemic and its devastating blow to human life and the economy. Are your employees bringing the best version of themselves to work? Are you cultivating that opportunity or are you stagnating and assuming its business as usual?  
Why should a company invest in employees?
 1. Employee turnover is expensive
You want to keep your brilliant people doing what they do best, it makes a business more profitable.
Recruitment is expensive and timely.
Training programmes for new staff are expensive and inopportune.  
Losing experience, knowledge or missed opportunities from employees who have left can have a devastating effect on a business.
Key client relationships are usually built between people. Your key account manager and your client contact usually have a great bond. Losing that could cost you the long-term relationship.
2. Acknowledging milestones and achievements is imperative
Employees play a huge role in the success of your organisation.
Thoughtful, customisable gifts recognise their commitment, improve employee retention and encourage motivation. According to Social Cast the enterprise social networking application designed for the workplace, 69% of employees would work harder if their work was recognised and appreciated. 
Employee engagement ideas should be considered, planned and budget set aside for making them happen.
3. Great quality talent is hard to come by
Investment in training opportunities is essential. Offering employees opportunity to improve their own skill set will ultimately reflect back to you as they are motivated and better equipped to carry out business growth.
Growth and development opportunities for employees means that a longer commitment to the organisation which makes planning and development of new projects easier.
Maintaining a reputation for promoting employee growth, development, well-being as well as a work/life balance attracts other great talent.
4. Investment in employees' health and well-being
Healthy, well rested employees take fewer sick days therefore encouraging better productivity.
Endorphins they have running through their bodies following exercise promote better work application and focus.
Employee engagement ideas include branded active wear or company sponsorship of participating in outdoor challenges. Customised team wear, running torches or sports bottles are other ideas.
5. Emotionally attached employees will be great with your customers
Your customer experience is the thing that differentiates you from your competitors. 68% of consumers say they are willing to pay for more products and services from a brand known to offer good customer service experiences. (Hubspot)
Employee engagement ideas
Recognise milestones
Take the opportunity to acknowledge team members. When a team member passes their promotion or reaches an annual milestone, you can celebrate it by sending them a card or gift. Birthdays, targets, accomplishments and retirements are all key milestones to celebrate and recognise. Popular ways to do this include personalised cards, boxed gifts or customised water bottles.
2. Employee onboarding
So, you've spent time and money on recruitment. You've found the star you want in your team, how are you going to welcome them, share your company values and bring them on board with your goals? Show them, tell them and educate them in your core brand values. Welcome packages can be customised with your logo, values or mission statement. Make the newest members of your team feel welcome with customised uniform, branded reusable premium bags or customised North Face backpacks, personalised note books or pens.
3. Employee wellbeing
Bring the outside inside. Working in an office or home office environment does not need to be sterile and screen-based. Evidence demonstrates that being around plants help people feel more relaxed, decreases anxiety, increases memory and productivity. The effect of nature in the workplace serves to stimulate both the senses and the mind, improving mental cognition and performance. Source: (Bisco Werner 1996; Brethour 2007; Frank 2003; Pohmer 2008; Serwach 2008; Shibata, 2001, 2004; Yannick 2009)
Gift your employees with plants and herbs. Customise the plant pots and packaging to serve as a reminder that it's the organisation they work for that wants to support their wellbeing. Customised gratitude journals or branded yoga mats are great items for repeated use. Get your team moving outside with branded umbrellas branded skipping ropes, bobble hats or protein shakers. 
4. Foster a sense of belonging
Team wear or work wear is not just a great leveller, it serves as a mechanism for an employee's sense of belonging. Being part of a team is instrumental in an employee's happiness which impacts on their performance. Consider gifting customised clothing for your team. Embroidered caps with your company logo or branded sweatshirts are a great source of affiliation. Feeling connected with your company or team through branded clothing is a smart choice if you choose great quality garments and decoration techniques. 
5. Choose sustainability
Sustainable and sensibly sourced branded merchandise is not just a nice-to-have anymore. Expectation that organisations have a responsibility to the environment and climate change should be top of your list.
Choose reusable stainless steel water bottles, personalised with your company logo and employee name. Branded lunch utensils or portable drinkware can be customised with your logo. Check where your branded merchandise is sourced. Can you identify where they are made the factory credentials? Recycled branded note books, branded key rings or metal badges are all great reusable branded merchandise that promise longevity. Indulge your staff with customised gift packs that are bespoke to your company.
Experts in employee engagement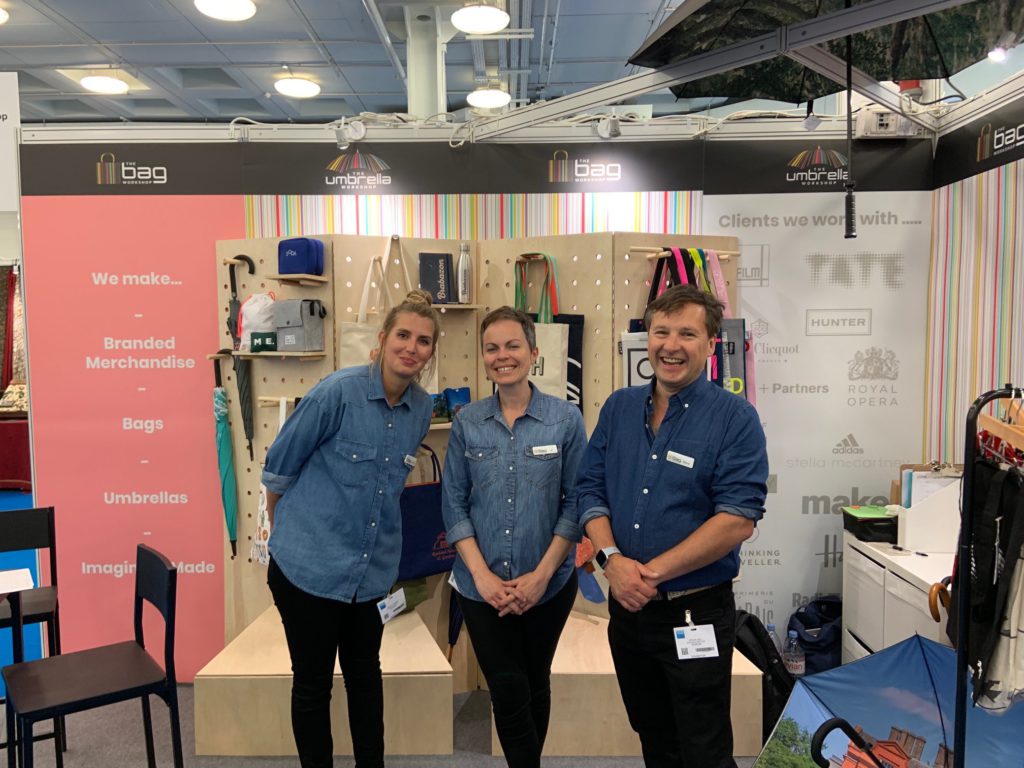 Wurlin – The Umbrella Workshop are specialists in employee engagement ideas, bespoke bags, packaging and customised branded merchandise. Progressive and flexible, we work with brand owners to diligently explore concepts and develop custom branded solutions. Experienced in sourcing products with a global supplier each, we are trusted partners to clients for innovative manufacture, structured project coordination and international distribution.
We work with global corporations and SMEs to deliver thoughtful and meaningful branded merchandise to actively engage your staff. We've received briefs from multiple organisations in the last 18 months to deliver premium quality gifts to help their teams feel connected, motivated and proactive during the most disruptive and unstable work environment that this generation has ever experienced. We work out what it is an organisation wants to achieve and we source great products to fulfil that brief. Try us out. What are you thinking? What do your employees need? Maybe you're not sure. Ask us what we're thinking and we'll help frame your way forward.
Artwork for umbrellas requires the artwork to be to be high resolution
Artwork needs to be supplied to us in a suitable format for printing to ensure crisp, superb quality interpretation on the umbrella panels. An image or graphic might look great on your phone or computer but when printed across an umbrella won't look so good unless it's super quality or also called resolution.
At the Umbrella Workshop we take immense pride in our work and want to ensure you have the best printed umbrella possible. For this reason, we need artwork supplied in an EPS format.
If you work with a graphic designer, they will easily be able to supply this to you, in either EPS or PDF file format.
We will always review artwork prior to printing and will supply you with a photo proof prior to production.
If you have simple artwork requirements, we will always be happy to oblige and re-format into a print ready format.
Simple text logo in jpg. or word format – this is pretty straight forward and we will prepare for FREE. Jpg. or photo of simple logo – this would usually take an hour of art-working.
Complex drawn design to transfer to digital print-ready format – would suggest two hours required for this.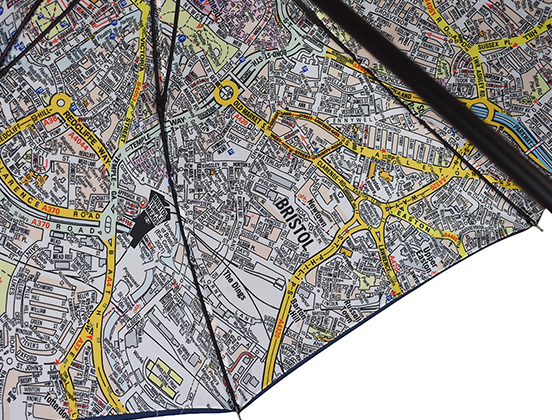 Artwork requirements for printed photos on umbrellas

For photo reproduction on umbrellas, the image should be of a suitable resolution and quality to ensure good print reproduction, usually 300dpi. We will be able to advise you of this. If we have concerns as to the reproduction of a supplied image, we recommend providing a full preproduction sample. There is an additional charge of £45 for this but ensures that you are fully happy with print prior to full production. Premium quality corporate umbrella gifts or employee umbrella gifts are sustainable choices that add value to relationships but also prevent landfill through making responsible choices and not gifting throwaway items.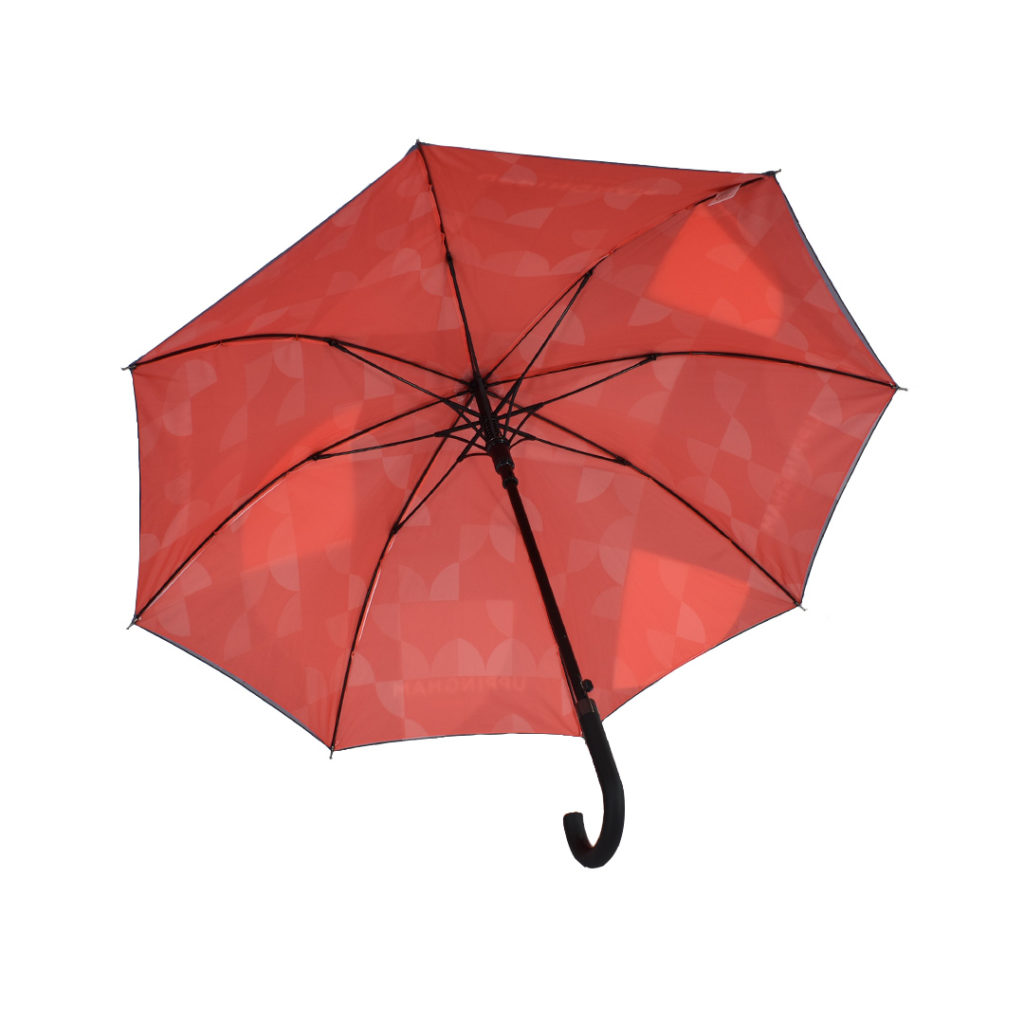 Print sizes for umbrellas

We can print all over a panel of an umbrella and match artwork up at the seams of an umbrella to show a continuous print. We print the panels of the umbrella when they are flat and then they are constructed after being printed. When the artwork is matched up during construction, this is done by hand, by experienced technicians. This takes time and it is not possible to do this by an automated machine. Our UK umbrellas are printed within a print area after the umbrella is constructed and it is not possible to print all over our UK manufactured umbrellas.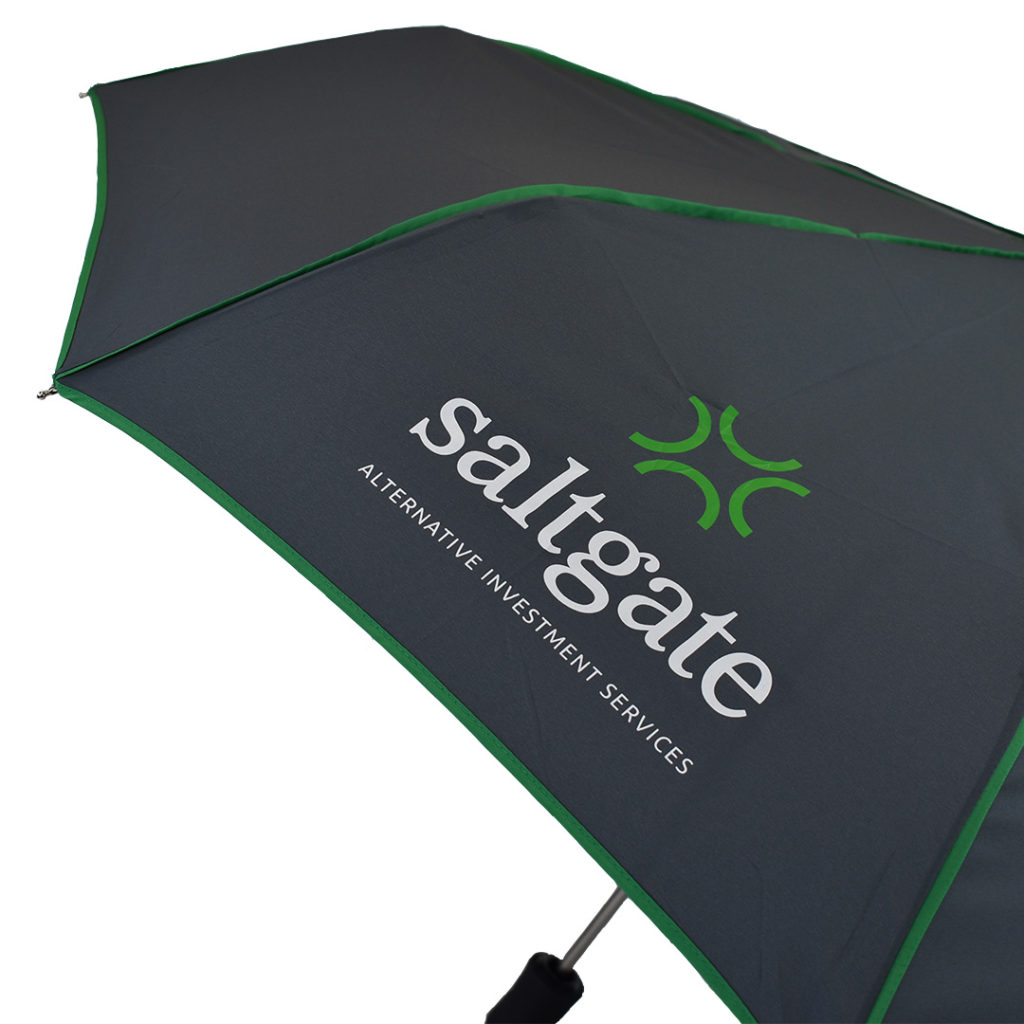 Artwork services for umbrellas

If you have a design or idea for your umbrella, we can help you turn this into a print ready file. We will supply this to you in an EPS and PDF format so you can use for other printing requirements and tweak or change your design in the future.
Artwork for umbrellas services are charged on an hourly basis at £45 per hour.
We will supply you files in a number of formats, such as EPS, PDF, JPEG and TIFF for you to use as you wish.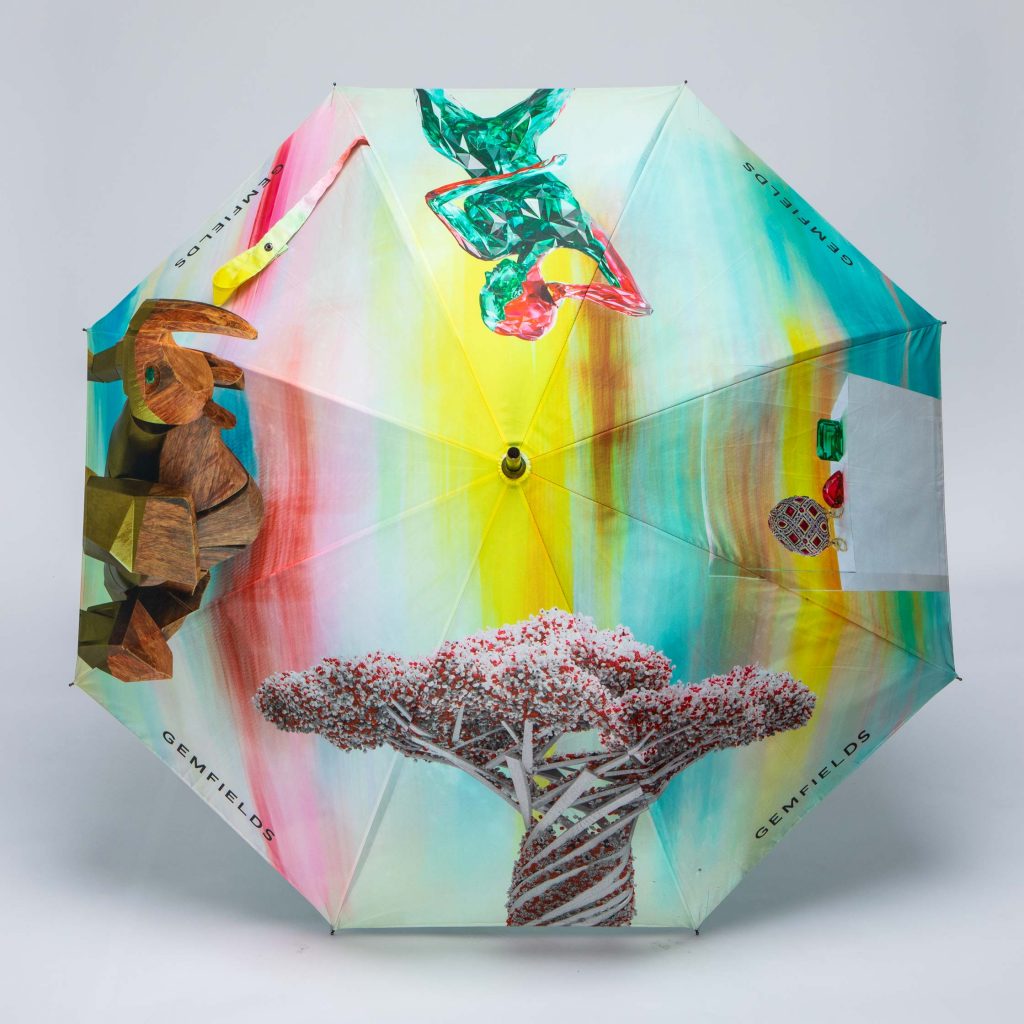 What is an EPS file?

An EPS file is used by graphic designers and printers and in simple terms allows a common language to be used for graphics. The benefit of an EPS file with artwork for bags, is that it can be resized without loss of resolution from the size of a stamp to the size of a house.
According to Wikipedia it is: An EPS file is a stream of generic PostScript printing commands. Thus, many PostScript printer drivers have an option to save as EPS, or to add EPS DSC information to their output which you can "print to file". Saving as EPS was a feature of Microsoft's PSCRIPT.DRV Windows printer driver and Adobe's ADOBEPS.DRV Windows printer driver for Windows versions prior to Windows 2000.
A number of programs will save or convert text and vector art to EPS format, including:
• Adobe Acrobat
• Adobe Illustrator
• Adobe In Design
• Adobe Photoshop (later versions)
• CorelDRAW
• Cytoscape
• FlexiSign
• Ghostscript
• GIMP (requires Ghostscript)
• GNU Octave
• IDL
• ImageMagick (requires Ghostscript)
• Inkscape
• InPage
• LibreOffice Draw
• Macromedia Freehand
• Maple
• Mathematica
• MathType
• Matlab
• OmniGraffle
• OpenOffice.org Draw
• PhotoImpact X3
• QuarkXPress
• R (programming language)
• Scribus
• Swift Publisher
• Xara
• Xfig
What can we do for you?
Wurlin-The Umbrella Workshop are specialists in umbrella manufacture, bespoke bags, packaging and customised merchandise. Progressive and flexible, we work with creative agencies and brand owners to diligently explore concepts and develop custom branded solutions. Experienced in sourcing products with a global supplier reach, we are trusted partners to clients for innovative manufacture, structured project coordination and international distribution.
Find out more or ask us to quote on your umbrella artwork. We'd love to help you with 
The most successful businesses are able to design their products and services around their customer's needs and pain points. Doing this means having a strong understanding of what makes their target market tick. Ultimately, they are always reflecting and asking themselves, why would people buy from them and not someone else?
Understanding your target market and how to stand out amongst the competition is as much about understanding consumer psychology as it is about being able to create brilliant marketing assets, from your brand logo to your social media strategy.
If you don't understand your customer's motivations then you cannot be an effective marketer.
Consumer psychologists have come up with their own findings on how consumers make purchases. Their research has honed in on several factors involved in purchasing decisions, many of them subconscious processes. By understanding this intriguing psychological process, brand marketers can become better at what they do.Here's the framework broken down by its four key influencers on consumer behaviour.
Psychological influencers of consumer behaviour
Psychological factors are extremely personal, and out of the four, they're the hardest to pinpoint because they're rooted in the subconscious: Motivation is what pushes people to take actions in order to fulfill their needs. In the case of consumers, it's motivation that compels them to buy, and the best marketing campaigns can spark this. There are two kinds of needs: primary, referring to the need for necessities such as food and clothing and secondary, which includes the need for independence, status and community.
Perception refers to how we see the world, which varies from person to person. We take in information through our senses, and our brain layers its own interpretation onto this, which affects our decision-making. Selective attention is an interesting case where consumers focus only on products that address their needs while not noticing everything else.
Beliefs are drawn from perception, with consumers having different attitudes towards a product based on how much it aligns with their own beliefs and values. If your product fails to resonate, then you won't make a sale. On the other hand, you can always tweak your branding to match your target market's beliefs.
Learning before purchasing has become more prominent than ever, given the rise of technology and the greater access to diverse products. An average consumer will research on your product, either through looking it up online or directly asking others. Consumers have more choices than ever, and they're intent on finding the best for the most convenient prices.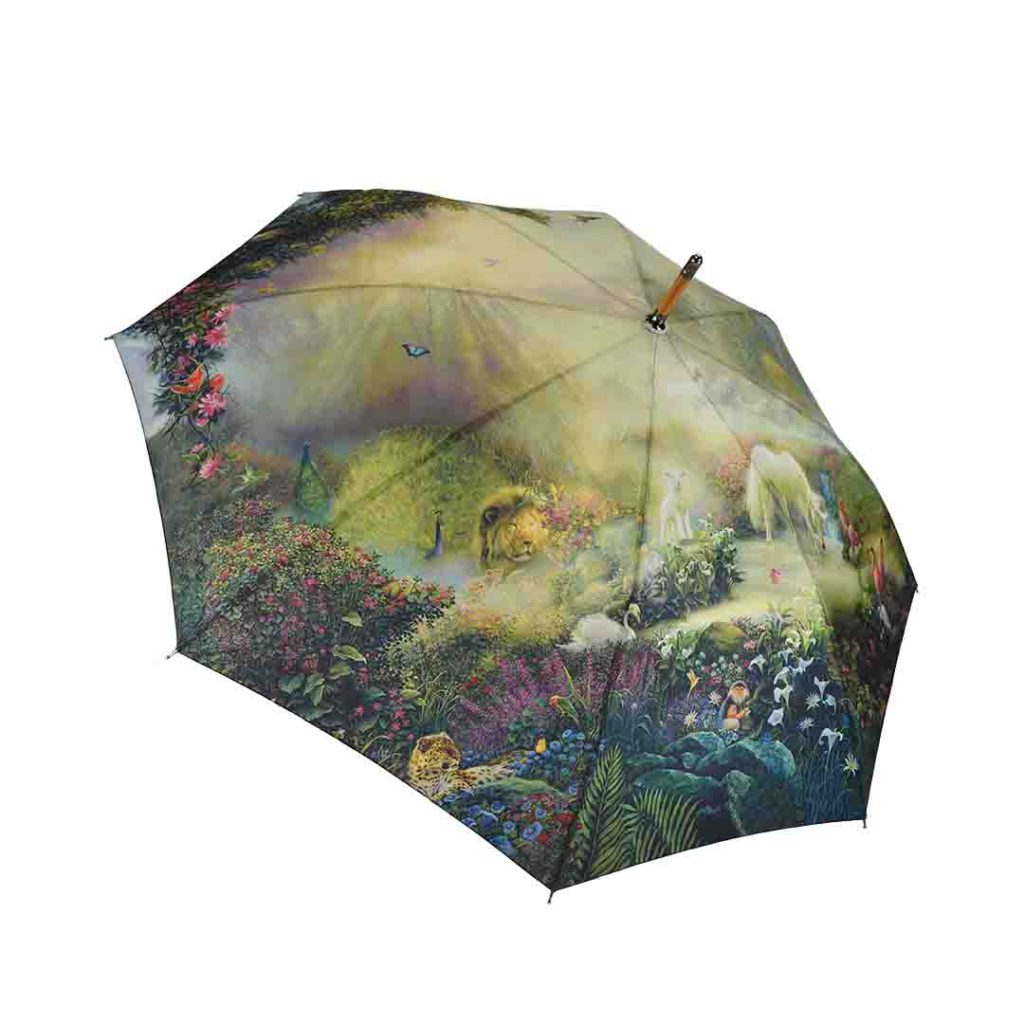 Personal influencers of consumer behaviour
To better predict behaviour, marketers group their target consumers into different demographics based on personal factors. Although easier to deduce from the outside, these can change depending on an individual's circumstances.
Age and life stage are always considered, ranking as the most important out of the personal factors. Children require specific types of products such as toys, school materials, and smaller-sized clothes, while teenagers and senior citizens would buy something completely different altogether.
Personality is a huge influence on what a consumer buys. Especially for industries such as fashion, art, and food, your likes, dislikes, and preferences dictate which product you'll end up choosing when they all have the same functionality.
Lifestyle shows up in what you do and how you express yourself in your day-to-day, encompassing interests, activities, and opinions. Consumers with a healthy lifestyle are likely to go for gym memberships and supplements, while those who are often busy with their work seek out convenient products such as on-the-go food and planners. This is especially important when planning what to put in your promotional swag bag at your next product launch event.
Occupation and economic situation are two other subfactors. Some brand marketing is aimed directly at specific occupations, such as specialist cameras for professional photographers and business suits for corporate executives. This is related to a consumer's economic situation, which is usually determined by income. The higher a person's income, the greater the inclination to buy more expensive products.
Social influencers of consumer behaviour
As human beings, we've always been social animals, living within communities at first then larger societies. While growing up, we acquire our identity through the process of socialisation, and we tend to look to other people in terms of behaviour, including for making purchases.
Reference groups are people that significantly affect our behaviour in some way, ranging from friends and family to the wider sphere of neighbours, classmates, colleagues, or even communities with the same interests, whether offline or online. For promotional products that are very visible, such as clothes, bags and gadgets, reference groups can be very impactful. The group often has an opinion leader who starts trends. This forms the basis of influencer marketing, where the opinion leader promotes a product, which boosts its popularity.
Role and status are based on our place within society. Our status describes what part we're currently playing—for example, being a business owner, parent, or subscriber, depending on the context. Related to this is our role, which is based on the activities that come with our status. One role of a business owner may be managing employees; for a parent, it would be providing for their children. If you can identify your target audience's roles and status, you can create products or services that help them portray these.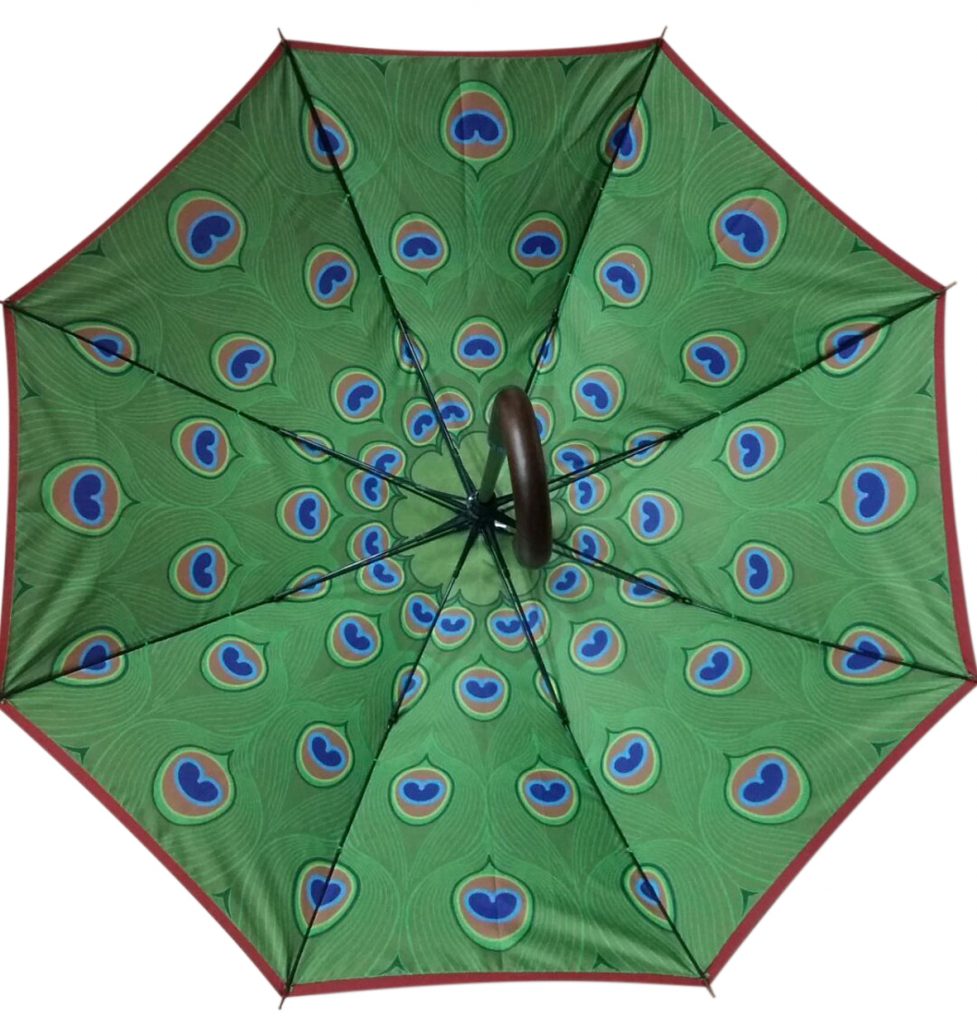 Cultural influencers of consumer behaviour
Culture is defined as the way of life, beliefs, and norms shared by a group of people. It's another influencer of consumer behaviour. Groups here are often large, even spanning countries, and one becomes part of a culture through exposure to its members, in particular through the family.
Subcultures are formed within a larger culture. While those within a subculture have much in common with the main group, they're also differentiated by a set of beliefs that aren't possessed by most others in that culture. Subcultures can revolve around religions, geographic religions, nationalities, and even common lifestyles and interests. It's important for businesses to be aware of the subcultures of their consumers and to segment their marketing accordingly.
Social classes are present in every society, and all members can be categorised according to these, they can be influencers of consumer behaviour. While it varies for each society, the usual basic divisions are upper class, middle class, and lower class. Income, education, occupation, and other variables combine to determine one's social class, which can change throughout a person's life. Those within the same social class have a lot of similarities that can be leveraged by brands. Consumers with a higher social class might be more status-conscious and purchase products that reflect these. On the other hand, those in the middle and lower classes would be more interested in essentials and necessities.
Whilst a lot of this might sound academic, developing a working understanding (or at the least an appreciation) of these decision making factors will allow you to get a deeper understanding of your target market and allow you to differentiate yourself and your products from other brand's. Knowledge is power as they say!
Who we are Umbrella Workshop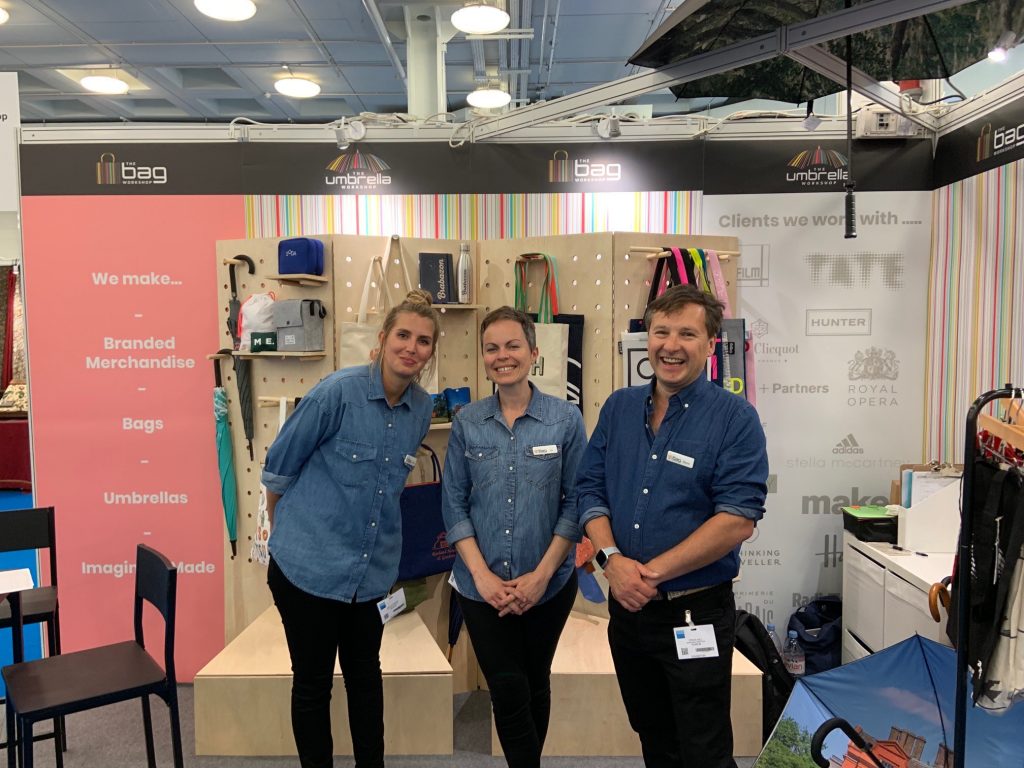 Experts in bespoke umbrella manufacture, we can also supply branded merchandise for your portfolio. Find out more about sustainable branded products from Wurlin or custom made bags to compliment your branded umbrellas can be manufactured by The Bag Workshop.
Find out more about us or ask us for a call back +44(0)1225 667979.
Attention is a scarce resource. The average human only has an attention span of 8 seconds, down 4 seconds from where it was in 2000, according to a study by Microsoft. These few seconds may not seem much, but for marketers, they can spell the difference between a new loyal customer, and another disinterested passer-by.
Marketers have to be smarter than ever, especially if they want to be heard above the noise of countless social media feeds, non-stop notifications, and endless offers from competitors. Below we've compiled a list of promotional marketing ideas businesses can use to gain exposure.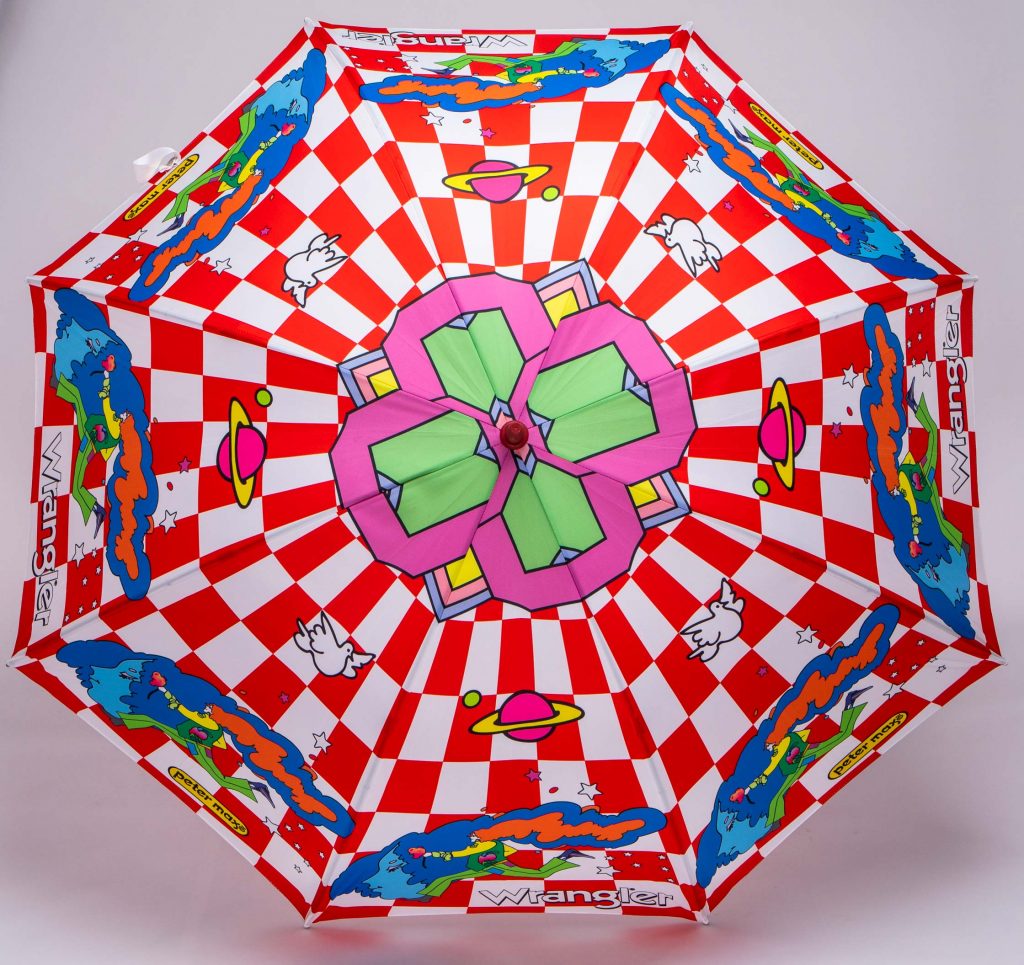 Hold useful and fun classes
Businesses can foster both loyalty and gain exposure by holding useful classes. Canadian athleisure wear and yoga brand Lululemon holds free in-store yoga classes once per week, conducted by local instructors. These classes, along with sponsoring health-events like Sweat Life in London, help the company showcase both their product and a very visible commitment to customers.
Host round-table events and webinars
Promotional marketing ideas include panels and talks are a good way to establish thought-leadership and authority within the industry and among your target audience. However, marketers looking to host these types of events need to remember that the focus should be on generating value and insight, not promotion.
If a physical event is beyond your budget, try hosting webinars. They cost less, are relatively easier to plan, and have lower registration barriers—most invites are sent through email. These live video seminars are also an efficient way to get in touch with highly engaged potential customers. While traditionally webinars attract considerably fewer attendees, the typical viewer will be willing to watch for 61 minutes.
Design unique and interactive in-store layouts
Every day, some half a billion users casually post tidbits of their life on Instagram Stories. Quirky and uniquely designed displays can easily start marketing themselves on visual platforms like Instagram and Snapchat.
But store layouts shouldn't just look great—they need to improve the customer experience, too. Walking into a Lush store is a real visual and olfactory treat. All products are placed invitingly on display, free for customers to sample. Ikea stores are ingeniously designed to beautifully showcase their products, a "catalogue in physical form", as a professor of built environments from the University College London calls it.
Look into hiring micro influencers in your niche
One only need look at celebrities like the Kardashians to see how powerful influencer marketing can be. However, many businesses are off-put by the cost—a single post from a relatively well-known influencer can cost upwards of USD £700 (about $1,000 USD).
Fortunately, you don't need individuals with millions of followers. Micro influencers—or influencers with 50,000 to a few thousand followers—can be just as effective, if not more. Promotional marketing ideas include these individuals who are celebrities in their own niche, while at the same time are perceived as relatively more relatable and approachable than influencers with millions of followers. These interesting VIP and kid-next-door hybrids often command a tight-knit community of highly engaged and loyal followers.
Go the extra mile with customer service…
Ads get your products exposure, but it's the reviews, comments, and ratings that will sell it. In today's highly connected world, reviews are trusted 12 times more than sales copy. Roughly 94% of online shoppers check reviews before buying an item.
One of the most effective ways you can encourage reviews is by going above and beyond in customer service. Over 80% of customers are likelier to purchase again after a positive experience. They're also more likely to recommend you to friends and family.
…and leverage social proof
Positive reviews are premium currency for your business. So when you do get testimonials, display them prominently on your site. Sprinkle nice things customers have said in your product description and marketing copy.
If you have the resource, create case studies around your most successful customers. These prove your product or service even to the most skeptical and can work as a lead magnet for prospective customers.
Be tactfully social
The power of social extends to your own marketing channels. Most businesses probably have some sort of presence on one or two major channels. In fact, the competition is fierce, and some users are getting tired of the endless deluge of ads and sales messages, which lowers the potency of marketing campaigns on social media.
To break through the fatigue fog on social media brands need to come up with fresh approaches, truly useful content, and stop spamming followers. You don't need to post ten times in a row to get noticed. Promotional marketing ideas include the right post at the right time can get you more engagement than content blasted well past midnight. Marketers can also look past major, crowded channels like Facebook and Twitter into other platforms like Quora or Pinterest. Some experiment with AI-enabled chatbots on Facebook Messenger
Give freebies
Everyone likes free stuff. But don't just start doling out random shirts or USBs with company logos for promotional marketing ideas. Make sure that your giveaways are relevant to customers and your brand. Tangible gifts and promos need to be things people actually want.
You don't need to break the bank just for giveaways, but make sure they look presentable and are designed according to your brand style guidelines. Marketers can also boost exposure by leveraging user-generated content. Instead of just giving away goods, hold contests and ask followers to post content on Instagram or Twitter as entries.
Today's consumers are more savvy, discerning, and are afforded more choices than ever before. To compete in this hyper-competitive space, marketers need to put the customer in the core of every campaign. "Customer-facing" needs to not only be lip-service but a concept that guides every pound spent on promos—because once you build content with an eye on customers' needs instead of only your bottom line, then they will come.
Experts in bespoke umbrella manufacture, we can also supply branded merchandise for your portfolio. Find out more about sustainable branded products from Wurlin or custom made bags to compliment your branded umbrellas can be manufactured by The Bag Workshop.
Find out more about us or ask us for a call back +44(0)1225 667979.
Customised umbrellas are now a must-have for most businesses. Used to send out to clients as gifts or for us in the office, customised umbrellas are also part of an essential uniform for staff. Umbrella customisation options are now so vast, that umbrellas are considered part of one's personal style.
Top 5 popular umbrella customisations
Printed umbrellas offer a great opportunity for your brand to be displayed repeatedly without you doing anything more than the initial outlay. If you're giving someone a beautiful umbrella that is reliable and won't let them down then they are doing to ensure it's always at hand, therefore offering free advertising each time it's opened.
Creating a stunning umbrella is what we're best at, so here is insight to the most popular umbrella customisation options that you can use as inspiration for your next project.
1. Tone on tone printing for umbrellas
Combining materials and effects to create truly unique design-led umbrellas is a simple way to create dramatic effect. We combine canopies to allow special effects, such as an under print for show through. This works well for a shadow effect.
We can also combine materials such as printed PVC canopies and textile for a great display of design. Tone on Tone effects can be achieved by harnessing the different properties of print and materials.
We are only restricted by your design brief, and we love to push the boundaries of what can be done and create new innovative ways of doing things, so don't be confined to what you see here.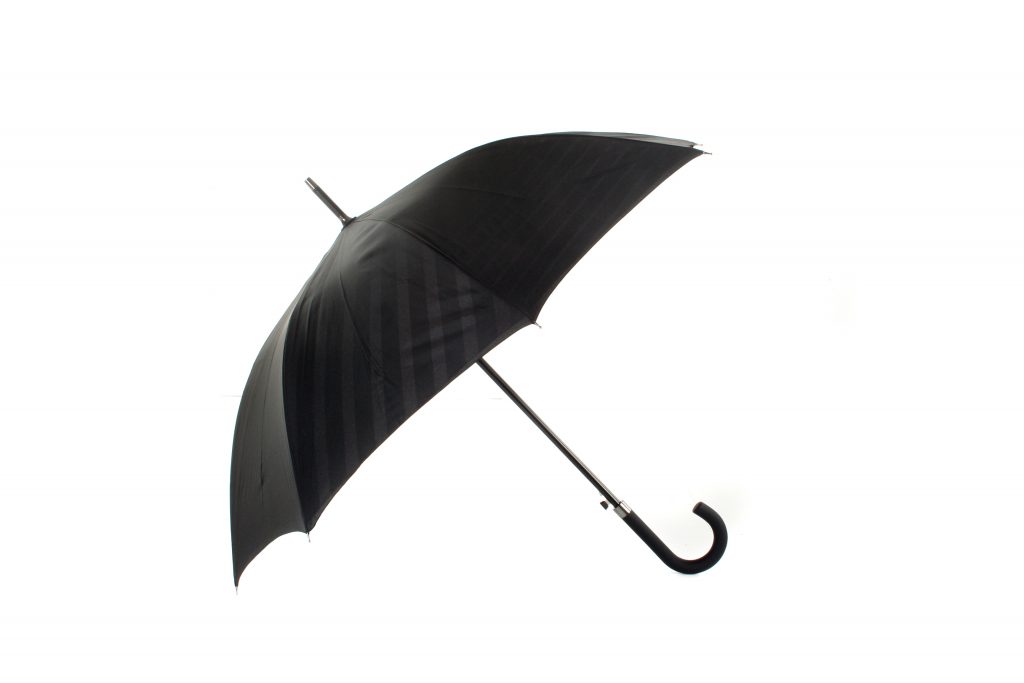 2. Engraved handle ring on umbrella
Choosing a model of umbrella for your brand will be usually down to personal taste. A large luxury golf umbrella will be selected for two reasons. Either the size of the panels due to the large branding estate and ability to promote designs so much bigger than other models of umbrella or for its intended use. Its large capacity can mean that more than one person can use the umbrella and has been chosen for sporting events to keep the sun or rain from a rider or driver in advance of race.
Custom luxury branded umbrellas can also include folding umbrellas and walking models which are usually selected for their size. A walking umbrella is slightly smaller than a golf umbrella and usually with a crook handle. A folding umbrella is compact and can be carried in a bag or large coat pocket.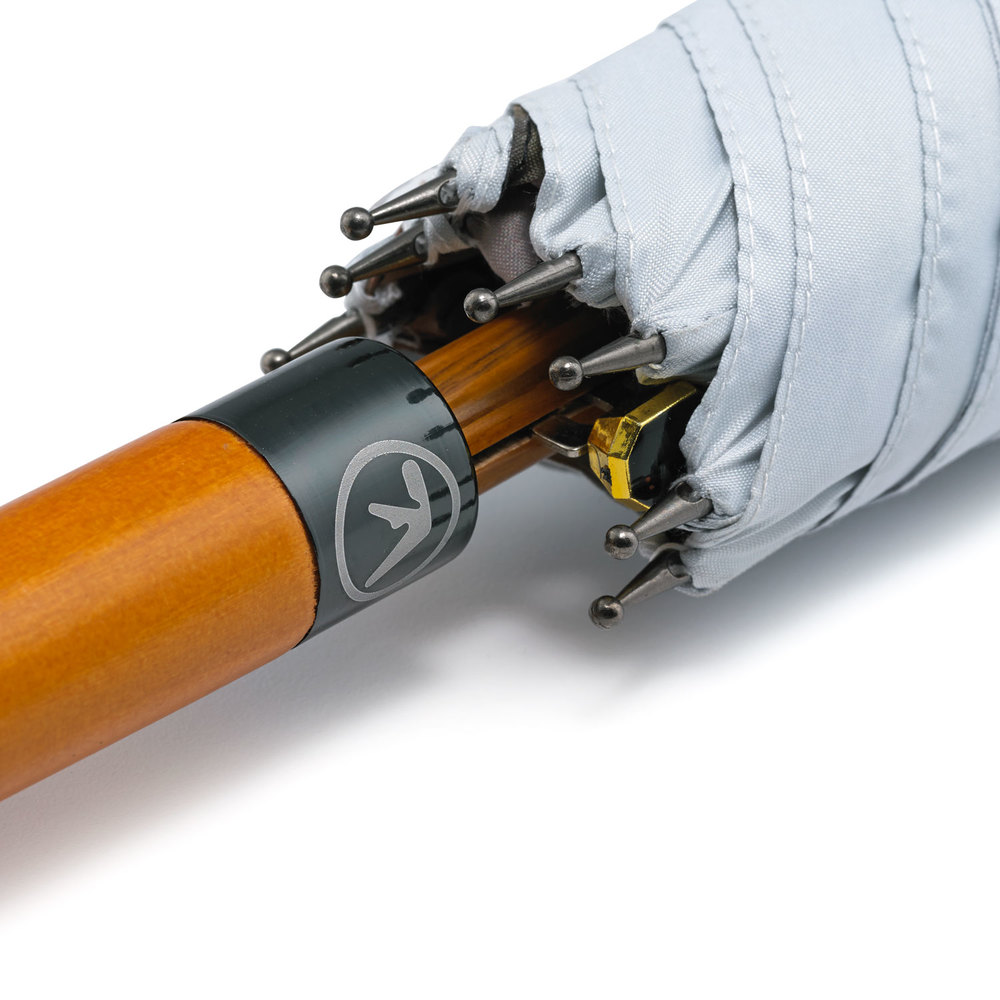 3. Customising luxury branded umbrellas
As well as the model of umbrella for you to choose and the design to be printed on the panels, you can develop your umbrella customisation on your luxury umbrella to include:
Engraving on the handle ring of a walking umbrella.
2. Adding a logo decal to the base of the handle of a golf umbrella.
3. Printing on the carry sleeve of a folding umbrella.
4. Including perimeter tape, also called rib tape.
5. Enhancing the umbrella tie wrap with print or contrast colour.
6. Add a woven or printed brand label to your umbrella.
Walking umbrellas, with crook handles are the preferred model to choose for an engraved handle ring. A gun metal finish complements the other metal finishes on the umbrella and offers a stylish and subtle branding option.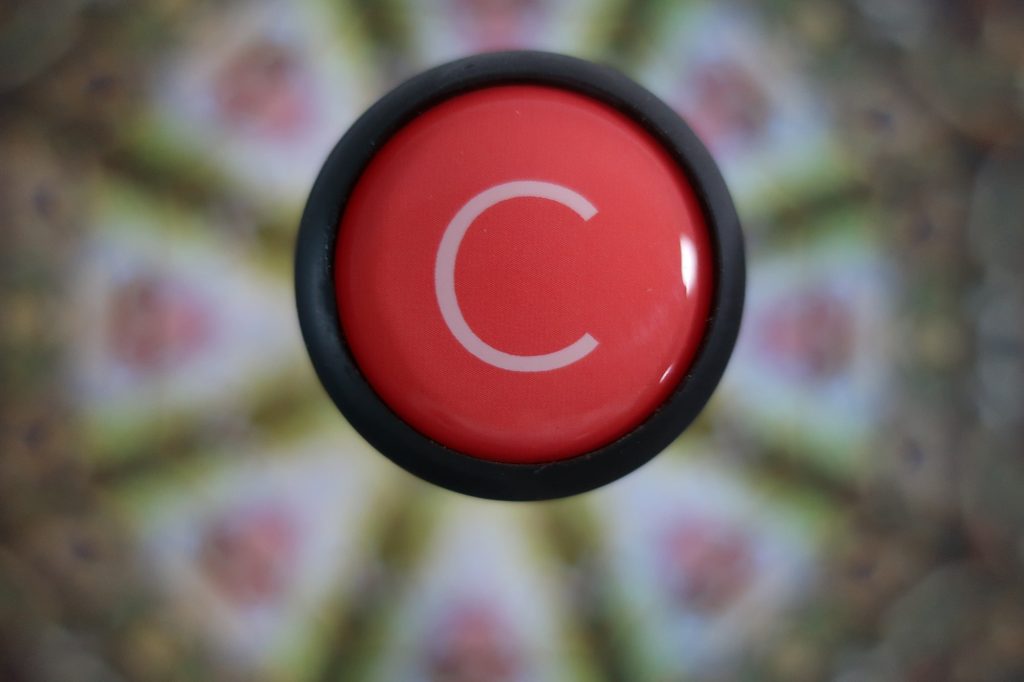 4. Inside print on umbrellas
Printing on the inside of an umbrella is a great opportunity to make your umbrella unique. Printing on the inside of an umbrella requires the umbrella to have a double canopy. This means the umbrella has two 'sets' or 'layers' of panels – one on the inside and one on the outside.
We print your artwork across the panels prior to construction of the umbrella in order for the print to matched carefully by hand at the seams of the umbrella, to create a continuous, photo, pattern or design across all 8 internal panels of the umbrella.
Internal print on an umbrella
An umbrella printed on the inside and outside will achieve a great finish with a screen print or digital print to suit the complexity of your artwork. If you're not sure how your internal print on an umbrella will look, why not send us your artwork and we can visualise it for you and email you with it to help make your decision.
It's possible to include an internal print on an umbrella in any model you prefer, a golf umbrella will be the largest option to display your internal print because the panels are largest. A walking umbrella with internal print a great choice for urban umbrella use such as in the City and an internal print on a folding umbrella is a neat surprise when giving away an umbrella as a gift.
Great examples of internal print on an umbrella have been by building developers wanting to print maps on an umbrella or brands printing a photo on the inside of an umbrella so the user looks up and sees a face or clouds.
Double canopy umbrellas are a great solution for unusual designs on umbrellas. The minimum order quantity for an internal print umbrella is 100.
We sample the umbrella on receipt of your artwork and a small deposit. When you approve your sample umbrella with your print carefully interpreted and sewn together, we launch production of your whole order. We will then advise your dispatch date which can be from 4 to 6 weeks, depending on the quantity you have ordered and complexity of your design.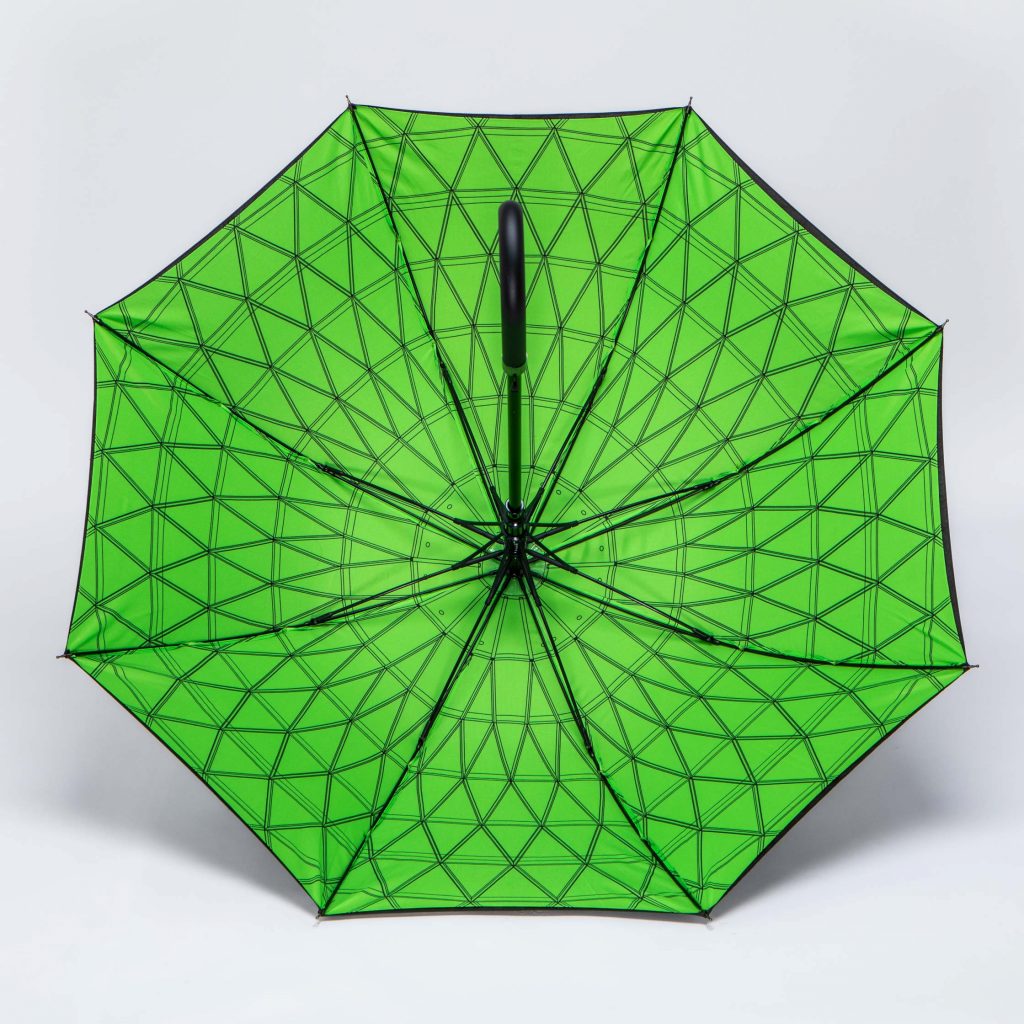 5. Metallic printing and special effect umbrellas
Umbrella customisation can use a variety of inks and print effects for the reproduction of metallic logos And detailed metallic print on our umbrellas.
We don't use gold coloured ink we use real gold! Our gold and silver inks contain tiny quantities of the base material, giving the print an iridescence.
We can also match this in with gold material for perimeter tape or inner panels as can be seen on the Mandarin Oriental luxury hotel umbrellas.
Foiling is another superb method of decoration, where metallic foils are used instead of print. This is a more expensive process – but the effects are stunning. Foils come a large range of colours and textures.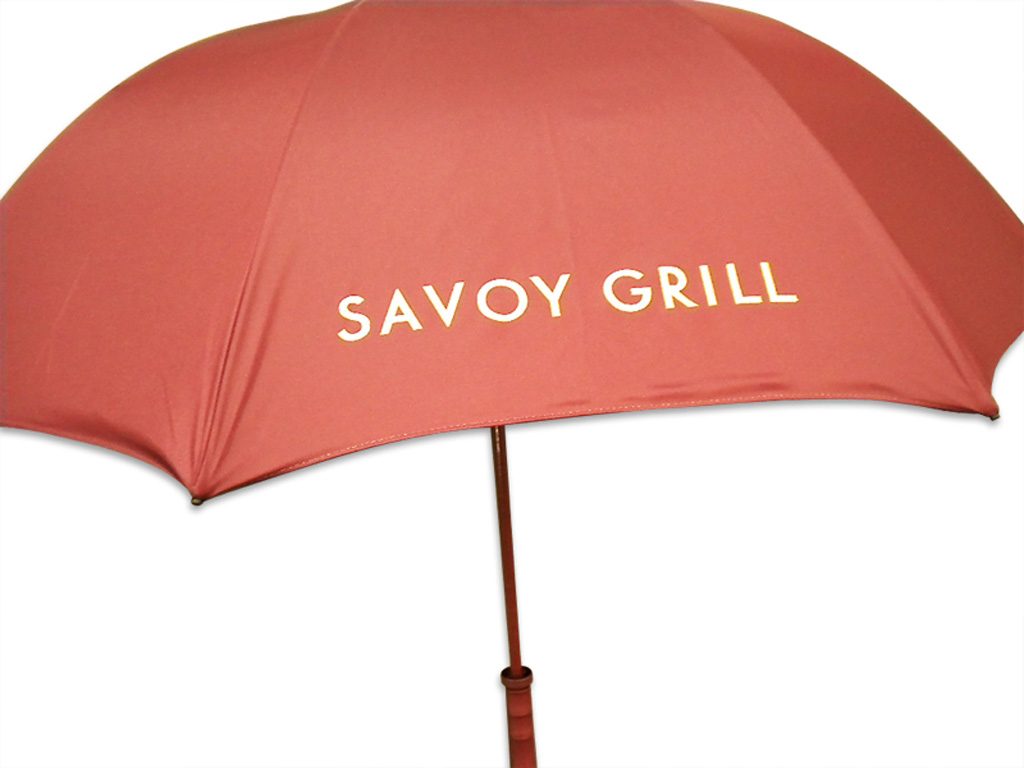 We've outlined a clear diagram and description of each of these parts of an umbrella to help you understand which parts can be customised and how an umbrella is made.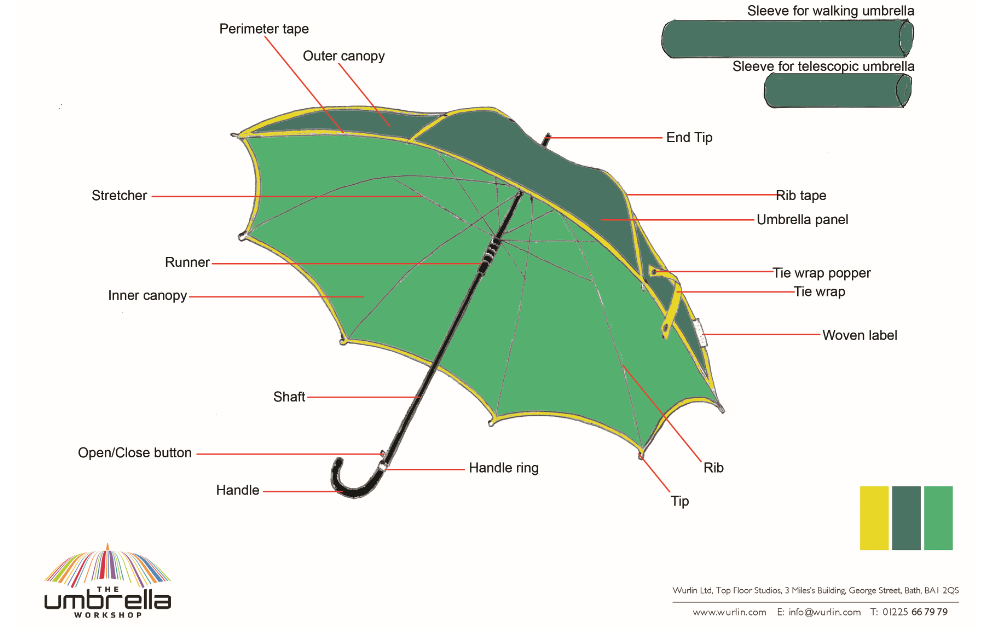 Canopy
The canopy of the umbrella is made up of 8 panel sections, which can be printed and decorated with any design. This is the part that keeps you dry or sheltered from the sun. The canopy is usually made from pongee which is high grade polyester that is treated with an acrylic coating on the underside and a scotch-guard finish on the top. The pongee can withstand heavy rain, dries quickly, folds easily and is available in many colours. Each panel is individually cut, printed and sewn to the rib. 
Digital or screen printing artwork onto the panels is possible and in most cases, happens prior to the umbrella being constructed. The fabric can also be Pantone matched and dyed prior to cutting to shape. 
The external canopy is the top of the umbrella that faces the rain or sun. The internal canopy, which can also be printed or dyed, is the inside of the umbrella that the user sees when they look up when the umbrella is open.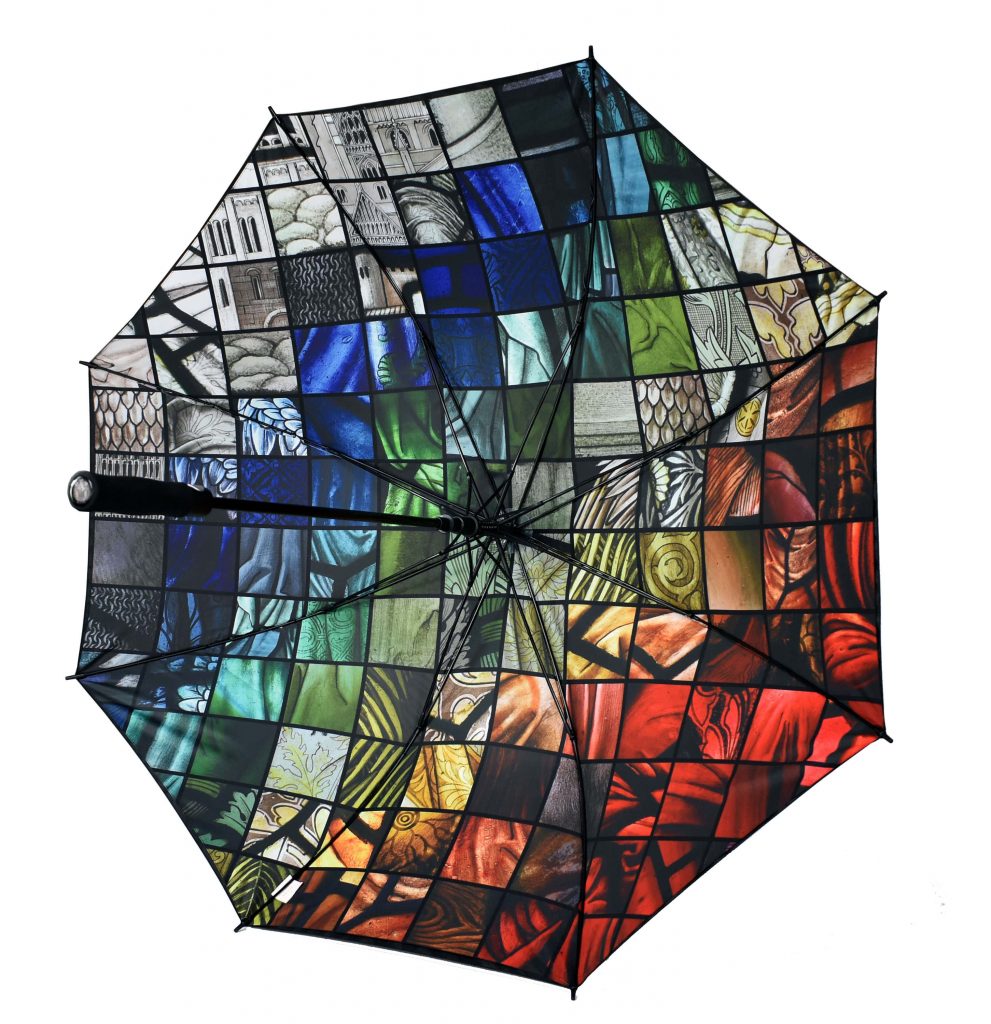 Pole (shaft)
Once made from cane or whale bone, the shaft of a modern umbrella is now made from either fibreglass, wood, steel or aluminium. Each material has its own advantages. Fibreglass won't rot or corrode and is extremely robust. It also holds it shape and won't expand or contract with the cold or heat with ease. 
An umbrella made from fibreglass offers longevity and won't bend or break easily. It won't absorb water and won't corrode over time like steel or aluminium. Our golf umbrellas use fibreglass poles and ribs. 
Wood poles are traditionally chosen for walker umbrellas and are a strong choice for an umbrella pole. Wood walkers are usually made from ash trees including Rowan wood which is common in Asia. Wood shaping machines such as lathes and turning machines create the proper shape for a pole. 
Telescopic umbrellas utilise aluminium poles for a light and effective folding action. The pole of a telescopic umbrella is constructed differently to a non-folding umbrella and has three parts to it, with the two narrower parts fitting snugly inside the largest section when folded down.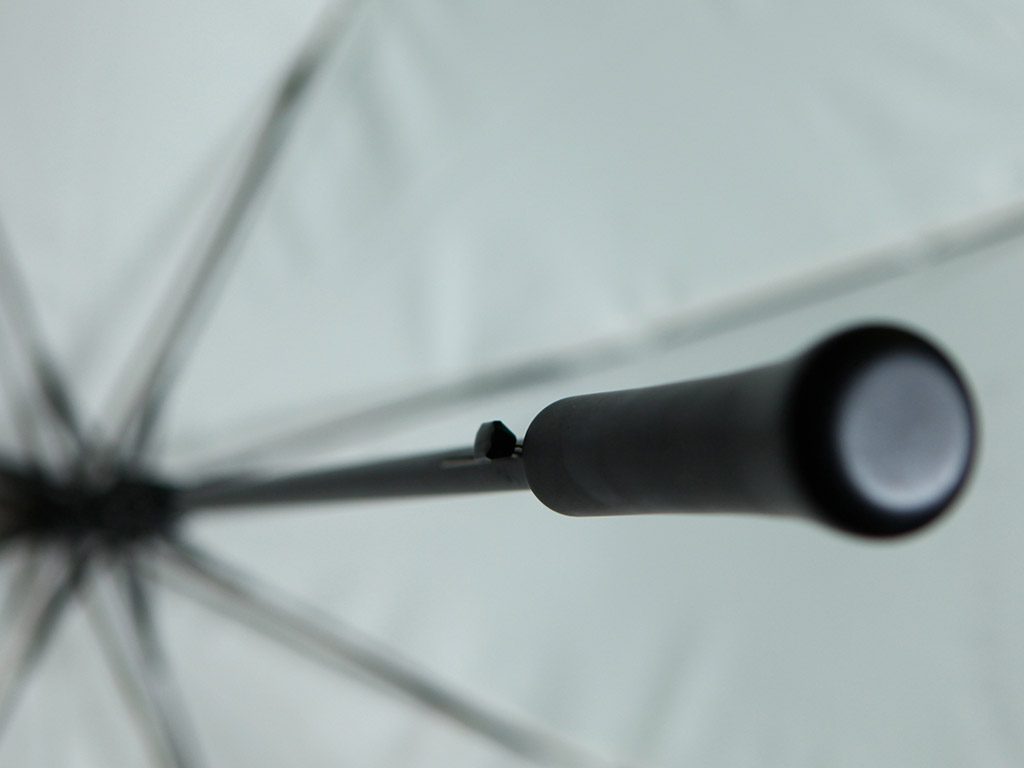 Ribs
Umbrella ribs are what gives the canopy its structure and shape. The ribs closest to the pole hold up the canopy and the ribs that extend to the edge of the canopy hold the panels of the umbrella in a curved downwards shape. 
Fibreglass umbrella ribs can withstand heavy usage (see how we wind test our umbrellas here). 
Ribs are attached to the shaft of the umbrella by fitting a top notch (a thin, round nylon or plastic piece with teeth around the edges and held with wire). The stretchers are connected to the shaft of the umbrella with a plastic or metal runner which is what moves up and down the shaft of the umbrella when it's opened or closed.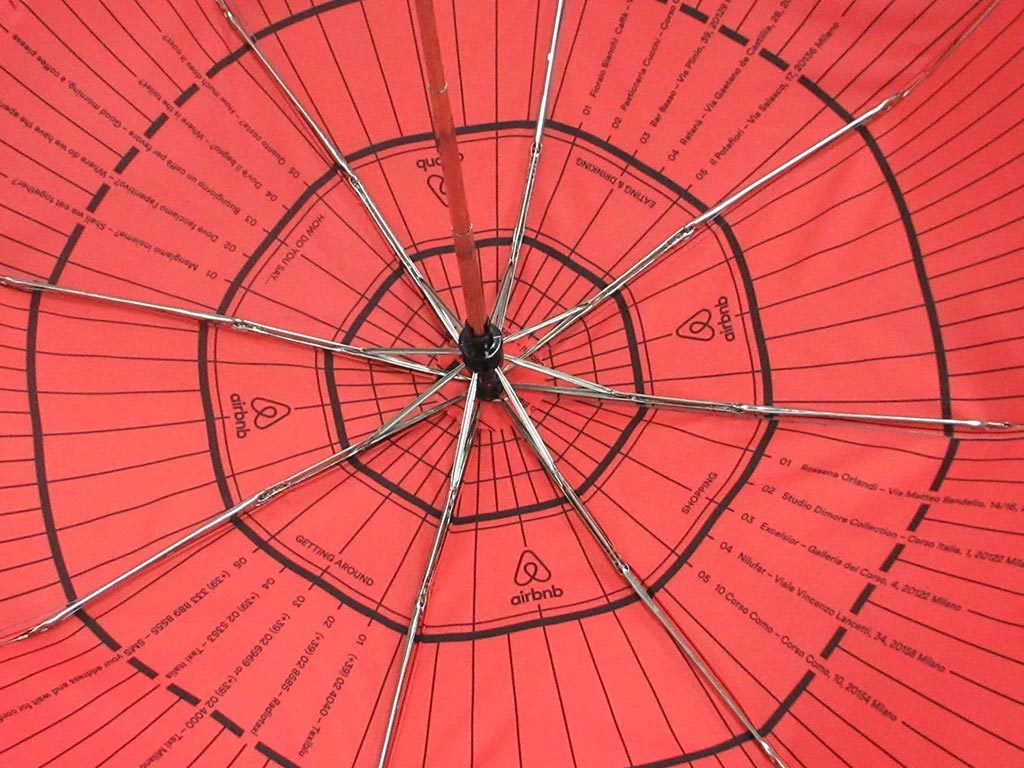 The ribs and stretchers are connected with a joiner – a jointed metal hinge that opens and closes at an angle.
Two catch springs in the shaft of the umbrella are included. When the umbrella is opened these need to be pressed and pressed again when the umbrella closes. Metal shafts are usually hollow and the catch spring is inserted. A wooden shaft requires a space for the catch spring to be hollowed out. A pin is usually placed into the shaft a few inches above the upper catch spring to prevent the canopy from sliding past the top of the umbrella when the runner goes beyond the upper catch spring. 
Tips
The ends of the ribs that extend past the edge of the canopy are called tips. They can be left bare or covered with small plastic or wooden caps that are pushed on then screwed on, glued or sewn into the end of the ribs through small holes at the end caps.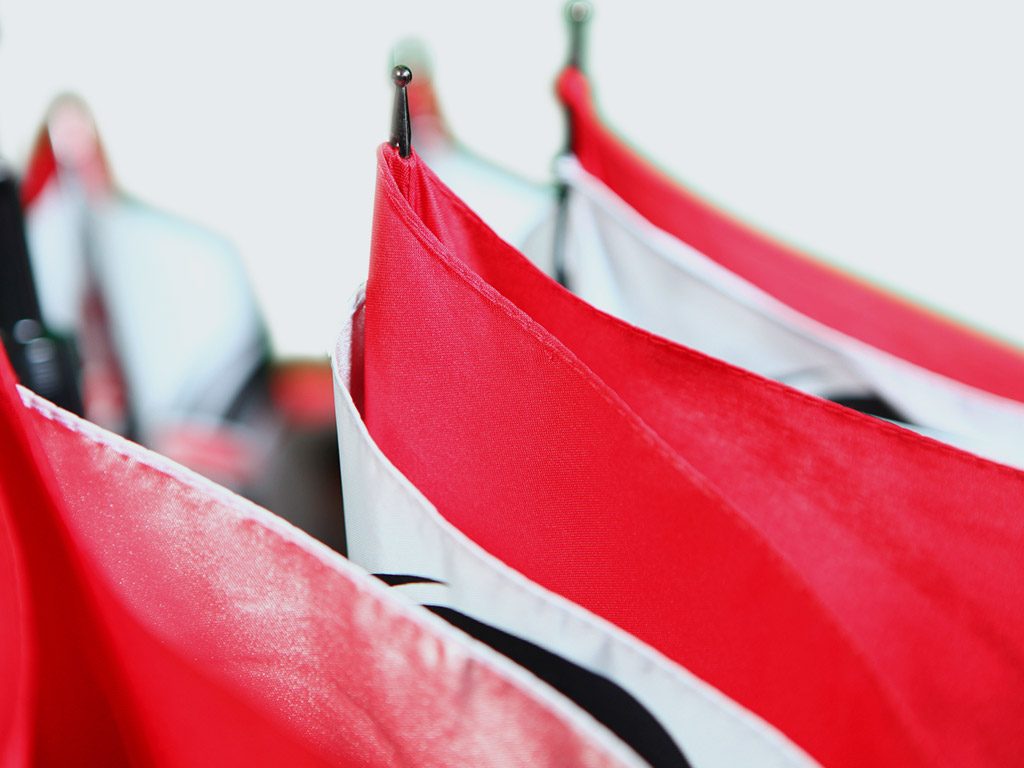 Ferrule 
The tip of the umbrella, also called a ferrule can be left flat, which is usually the case with telescopic umbrellas. Or a tip can be added in accordance with the model of the umbrella. A wood walker will include a wooden ferrule with metal cover on the end. A golf umbrella will have a fibreglass tip the same as the shaft.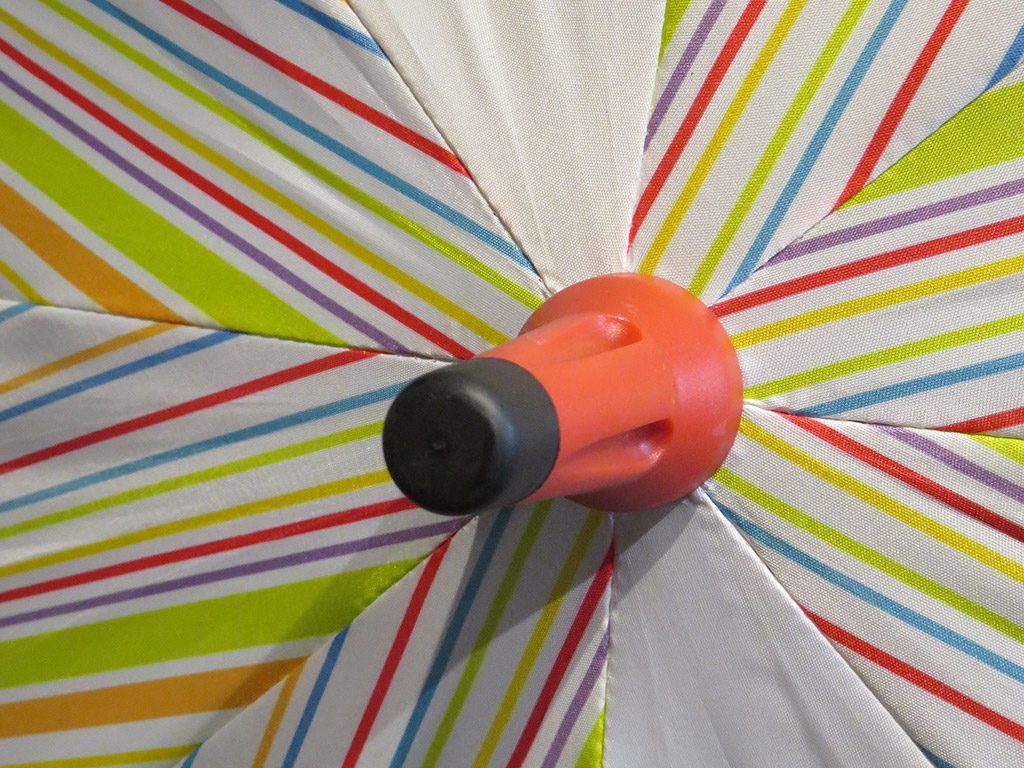 Runner
The umbrella runner is the piece that moves along the shaft of the umbrella allowing the user to push up to open the umbrella and down to close it. 
Handle 
Aside from the canopy, the handle is the single most customisable element of an umbrella. It can be a crook handle, straight handle or a telescopic handle with a push button for opening. 
A crook handle can be wooden or silicone for a softer feel, depending on whether it's a wood walker or city walker. 
Manual golf umbrellas have an EVA foam handle and automatic golf umbrellas have the same handle but with a push button situated above it for automatic opening. 
Folding umbrellas can include a push button for auto opening. Branded logo discs can be applied to golf umbrellas and folding umbrellas.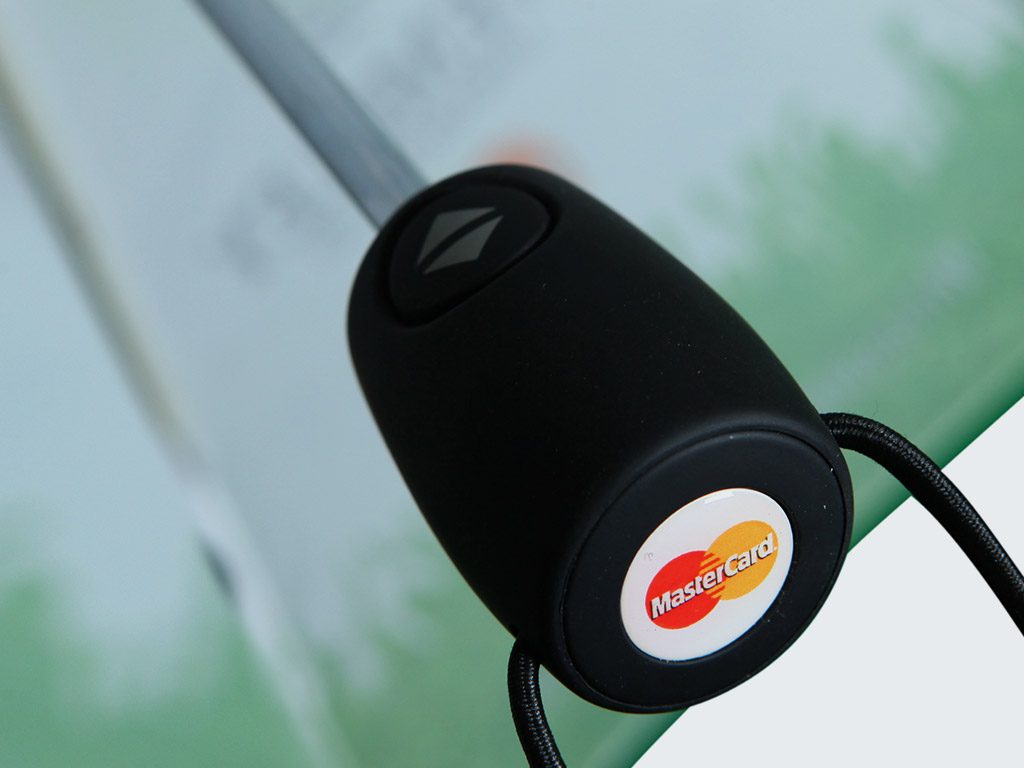 Handle ring
Also referred to as an umbrella neck ring, this sits above the handle of a walking umbrella. It can be customised with engraving.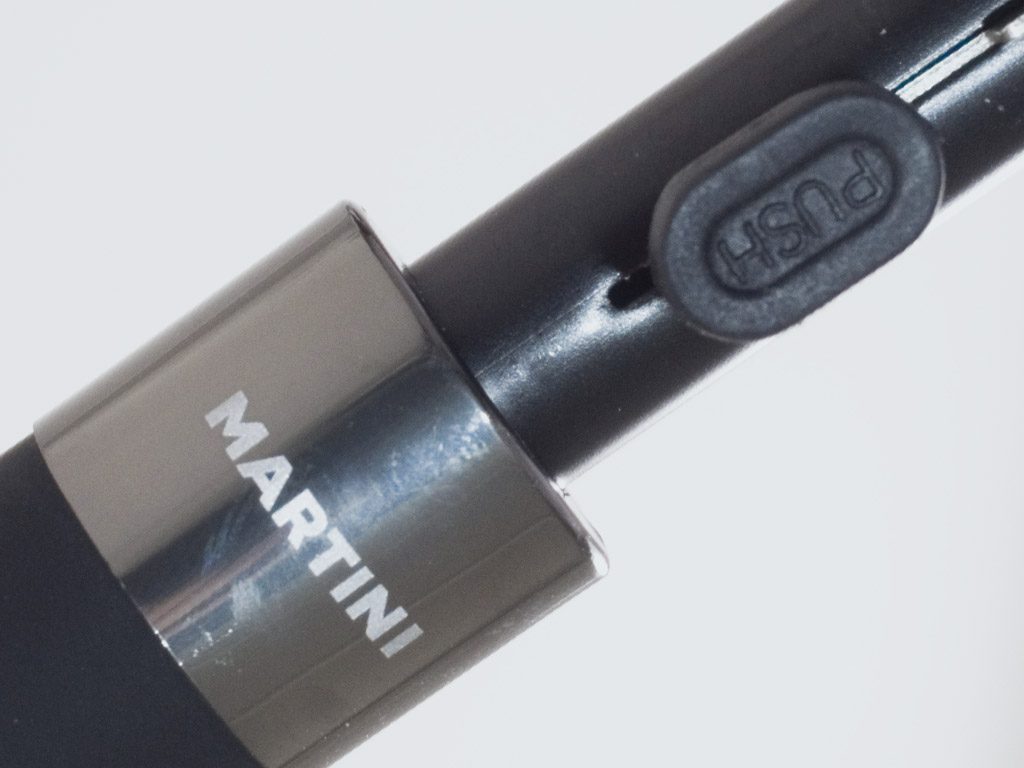 Handle strap 
A customised handle strap can be added to any model of umbrella but is usually chosen for telescopic folding umbrellas. PU leather is a favoured material, as is polyester webbing. Handle straps are designed to fit around the user's wrist to carry the umbrella when not in use. 
Tie wrap
Made from the pongee fabric and coming in the same colour as the panels of the umbrella, unless otherwise specified, the tie wrap is a small strip of fabric that wraps around the closed umbrella. Tie wraps usually utilise a popper to close the wrap and keep the umbrella canopy closed and tidy when not in use. A woven or printed label can also be added to the tie wrap to customise the umbrella and the popper can also be a different colour or embossed. 
Umbrella sleeve
A protective sleeve is made from pongee, the same material used for the canopy of the umbrella. It can be printed, dyed and embroidered in accordance with brand guidelines. Telescopic umbrellas <link> are usually supplied with an umbrella sleeve to protect the umbrella when not in use and often in a bag for transporting. Walking umbrellas and golf umbrellas can also be supplied with an umbrella sleeve on request. 
How an umbrella is made
An umbrella is made by hand in an assembly manufacturing process. The beginning of the process involves the purchaser (client) deciding what their umbrella will look like and submitting artwork to that effect.
The chosen model of umbrella plus artwork is sent to the production team to review. A flat layout is created for approval. 
The elements for the order are purchased including the pole, ribs, handle and fabric. Many of these items are kept in stock for regular jobs. More unusual customisation elements have to be outsourced and can take a little longer than those kept in stock. 
A pre-production sample is then created and the panels are printed in accordance with the artwork and attached to the chosen model of umbrella. 
Upon approval of the sample, the production of the whole order is created and packaged before being sent to the client's desired delivery address. 
The great thing about our printed umbrellas is that we can reproduce most things. From fine art and photographs to metallics, you just need to tell us what it is you're interested in printing and send us the artwork.
Submitting artwork for umbrella printing can be tricky to get to grips with if you're not accustomed to printing on anything other than on your office printer. Printing on other surfaces isn't like printing on paper and so it's important to understand the requirements and the jargon before you begin the design phase. It might not be your job to understand how we print umbrellas, so we can help you if you're interested in learning the detail behind the jargon.
If it's your job to create the artwork, then here are a few things here that might help you. You may be accustomed to preparing artwork for print, so bear with us while we explain it quite simply for those who don't know.
What is umbrella artwork?
Umbrella artwork refers to your logo or the design you want on your umbrella. You might have previously referred to artwork as something you look at on the wall in a gallery. It will usually be created in Adobe Illustrator or Photoshop and saved as a specific file type (either a PSD or AI file). Exact colours to suit your brand identity or design will have been incorporated into the artwork before being correctly matched against the universal Pantone colour matching system. Download our free Pantone references tool.
1. Creating artwork for your umbrella
What program should I create the umbrella artwork in?
You will normally create artwork in Adobe Illustrator, Photoshop or Corel Draw. If you don't have this software then it's likely the designer of your artwork has saved it as a PDF which you can open to view. If you're creating it in-house, then you will need to invest in this software or find someone who can create it for you. We can do that! Get in touch if you need help.
What should the artwork look like?
Once you have created your artwork then expand all of the objects and save it as a copy and save as a vector EPS. Then reopen on another computer it to ensure it looks the way you expect it to (i.e. the way you created it), with clear lines and the right font. Illustrator will replace missing fonts which will mess up your artwork if it's not saved correctly, or if the computer you are opening the artwork on does not have the fonts required for the artwork. When you send us your artwork, send us the fonts with the artwork or ensure they are outlined so we can receive the artwork as you wish it to be printed on your umbrella.
Layering your artwork
Ensure each colour is on a different layer to make them easily identifiable. This prevents confusion and ensures the artwork is printed as you wish.
Grouping objects in your artwork
Group objects of the same colour together, so when they are clicked on nothing is missed, including the smallest of details.
Pantone references
Assign Pantone references to each layer so the artwork is interpreted correctly. We print according to the universal Pantone Coated (C) matching system. For a free colour chart, visit our sister site, The Bag Workshop.
Detailed artwork
We screen print and digitally print umbrellas. Bear in mind that very small fonts, hairlines and gradients/shading are not easily screen printed. If the level of detail is very fine on your artwork, we will digitally printing it.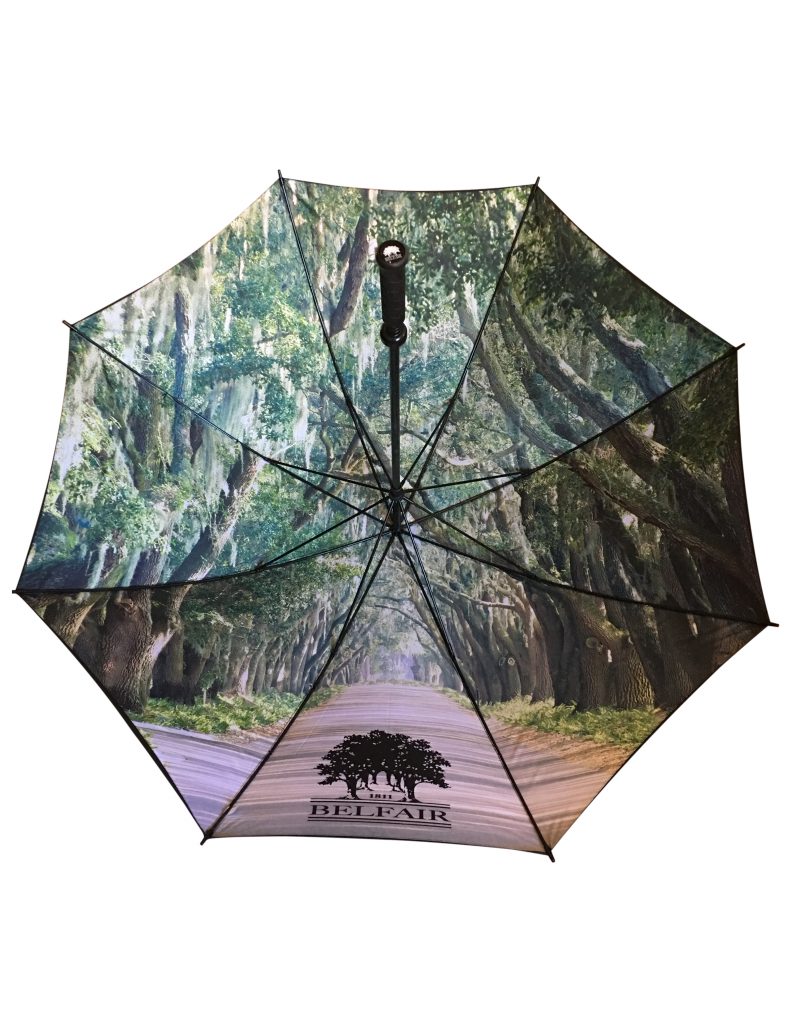 2. Artwork file types
We prefer to receive your artwork as a vector PDF or EPS file. Here's why…
What is a vector file?
We will talk about vector and non-vector files. A vector graphic is artwork that is created using a formula rather than coloured blocks or pixels. Vector file types include EPS, AI and PDF (PDFs are usually vector files, but this depends on how they are saved and if the layers have been flattened and retained ).
Vector files can be resized to suit your requirements. Vector files allow an image to be blown up to any size without losing any resolution or sharpness.
Because vector files are fairly large when they are created, artwork is usually created as a vector and then resized to something much smaller so it can be easily sent by email. What is a non-vector file?
Non-vector images (also called raster images) are made from a fixed number of coloured pixels and include JPEGs, GIFs and PNGs. These files are not great for print because they are low resolution and cannot be made bigger without diminishing the sharpness of the artwork, causing them to look pixelated. These are images that are usually found online.
If you're unsure if your umbrella artwork is vectorised, then just super-zoom in to it to see if any non-straight lines or curve shapes in the artwork remain the same resolution (vector image) or appear pixelated (non-vector image) .
3. Resolution of artwork for printed umbrellas
Umbrella artwork should be saved at the size it should be printed. In order to print precisely on an umbrella, your artwork needs to be saved at 300dpi. It's possible to scale artwork up but not down, so this is important. The size of your umbrella panel should be listed on the model of umbrella you're interested in, or on its specification sheet. If you can't find it, then please get in touch and we'll be pleased to help .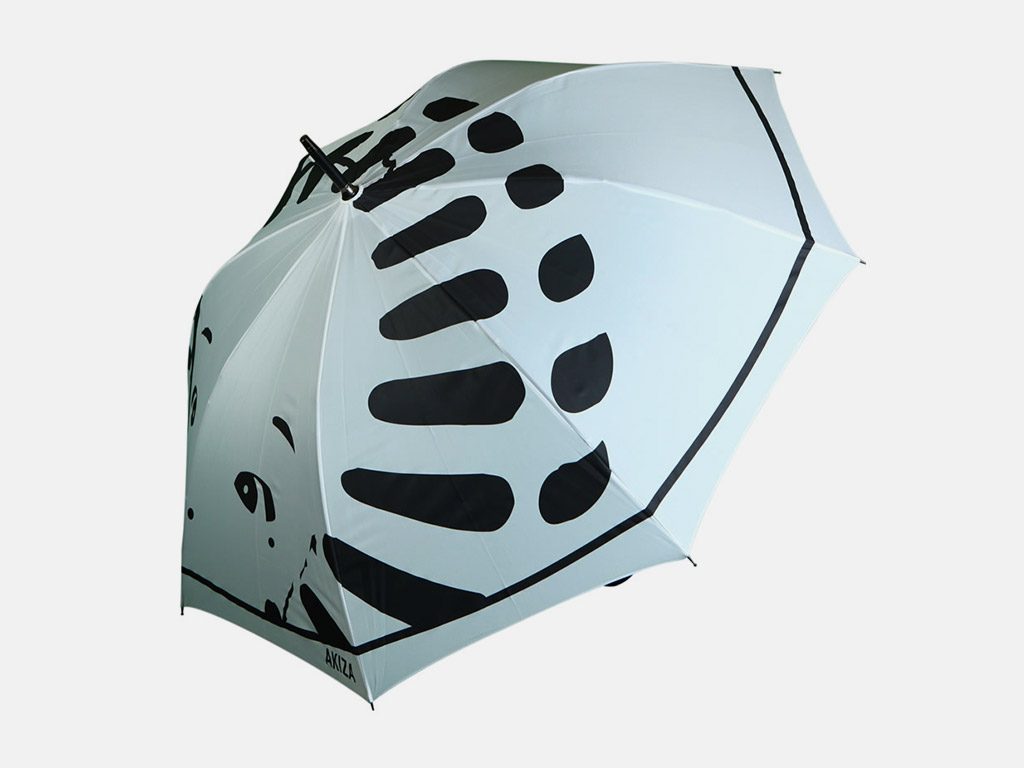 4. Bleed for umbrella artwork
If you're printing a logo which appears in the middle of an umbrella panel, then bleed is not required. If you are printing artwork that goes across the whole panel, or panels, of an umbrella then the artwork should have bleed. This means we print the whole panel, plus a bit more, so when then the panels are sewn together and matched at the seams they create a continuous artwork, rather than eight individual images .
5. Sending your artwork
If you are emailing high resolution artwork, it may be better to send by WeTransfer. Our email server can accept large files, but yours might not be able to send it (it's likely to be above 3MB if it's high resolution). That might also help you determine whether it's good enough for print or not. If you're looking at a file that is 5KB then it's unlikely it will be good for print.
Hopefully this helps you understand more about artwork for printing umbrellas. If in doubt, feel free to get in touch with us and we'll be more than happy to assist you. We'll be pleased to offer you a quote over the phone or on email if you prefer. We 're based in Bath in the UK and have over ten years of umbrella manufacturing under our belts.
We can prepare visuals of what your umbrella might look like and then we can progress to sampling and the quick administration of your order. We're fortunate enough to have our own graphic designer on our team and she can help redraw logos, create artwork for you or create mock-up visuals for you to consider or for you to show your team or boss for approval. So if you don't have a graphic designer or agency who work with you, then one of our team can help you. Get in touch.